This Train Gets Taken Out by a Mudslide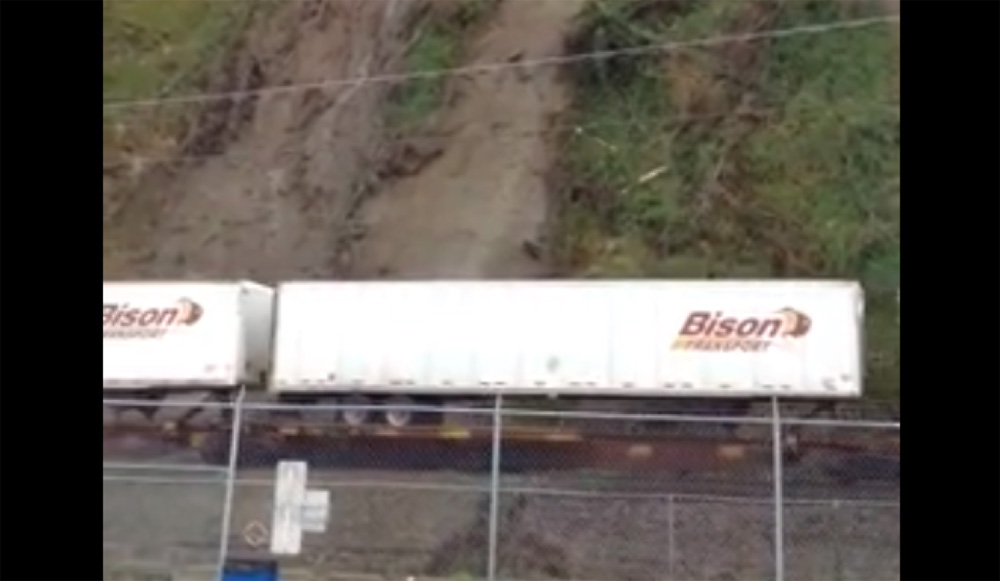 Around 1:30 pm on December 17, 2012, Ricky Ivelia, a Port Authority contractor out of the Port of Everett, WA, was seeing the trains pass from the terminal. When he heard the sound of soil moving, he pulled out his smartphone and started recording. What began as something impromptu became the best witness account of a mudslide derailing a Burlington Northern Santa Fe freight liner. It quickly gained national coverage.
"Earth Shaking" Lead-Up to the Mudslide
Posted along the port terminus where freight cargo is offloaded from boats and onto rail, Mr. Ivelia was simply sitting on the side of the road enjoying his lunch. As the BNSF freighter passed, he heard the low rumbling of earth moving. "I saw the hill start to go. It went down and hit the first car and it tipped over, then more cars kept tipping over. It was crazy how loud it was and how slow it all happened," said Ivelia in an interview with Seattle's KOMO News.
Here, he manages to capture the very slow moving progress of the mudslide. Coming down a 100 foot grade, the mud built up such a momentum that it was able to derail multiple cargo cars. Thankfully, no one was injured.
Weather to Blame?
A spokesman from the BNSF railroad commented to the local press that the train was derailed due to a mudslide caused by a recent spat of wet weather loosening up the earth. However, both in the footage and in individual statements, it appears some amount of seismic activity may have been at play.
Perhaps it was a perfect mixture of wet, rainy conditions leading to soil erosion coupled with a light push from Mother Earth? According to the Pacific Northwest Seismic Network, a non-profit seismic activity monitoring organization, a magnitude 1.7 earthquake centered 40 km from Everett was detected at 2:07 PM PST. That would have been registered nearly thirty minutes after the event and the severity of the earthquake, in of itself, wouldn't warrant much if any attention. (more…)
The derailed cars in the BNSF fleet were not push-overs. According to the Burlington North Santa Fe line's own web page, they are nearly 100,000 lbs each before taking on shippi