The Golden Gate Bridge's 'Zipper Truck' In Action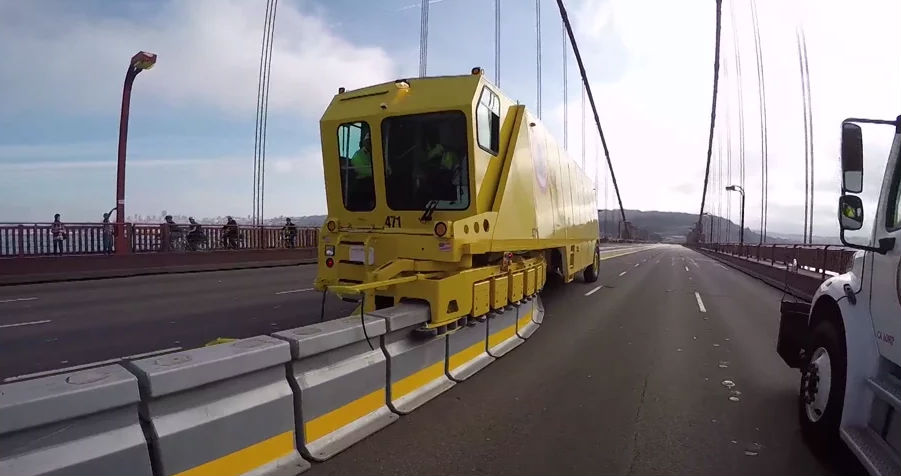 Joining San Francisco to the rest of Marin County, California, is the majestic and highly photographed Golden Gate bridge. This 4,200 ft suspension bridge opened in 1937 and ever since its been a quintessential "must see" spot in any tour of the West Coast. However, traffic and congestion that can build up along this bridge has been a sore spot for both the California Department of Transportation and safety advocates. Built without a divider to separate oncoming traffic, head-on collisions have been a nasty ongoing occurrence.
That all changed in 2015 with the addition of a truck which could cruise down the median barrier strip and seamlessly adjust it left or right. This allows the bridge to adjust to changing traffic patterns without causing too much of an obstruction. Additionally, it takes the Zipper truck a matter of minutes to make these adjustments.
Inception of the Golden Gate Bridge's Moveable Median Barrier Zipper Truck
Prior to the Golden Gate Bridge's acquisition of two median barrier zipper trucks, all that stood in motorists way from veering into oncoming traffic was a thin line of plastic pylons. From 1971 to 2015, 16 vehicular deaths have been attributed to a lack of a dedicated barrier. Discussions about putting in a barrier system were discussed since as early as 1980 but little actually came of it until the Bridge's Board of Directors finally obtained funding in 2005.
The acquisition of both the barrier system and the trucks came to a grand total of $30.5 million dollars to install. By the end of January, 2015, the system was fully implemented and the trucks are now working flawlessly. Each barrier segment is connected by iron links similar to the intermediary clasps holding together a zipper. As the truck drives along a marked blue dotted traffic guide line, it simply adjusts the line of linked barriers. (more…)
This system had been implemented on a number of bridges throughout the world – including Auckland Harbor Bridge and Sydney, Australia. It's a time effective solution to be