How To Load a Car Into a Semi Like a Boss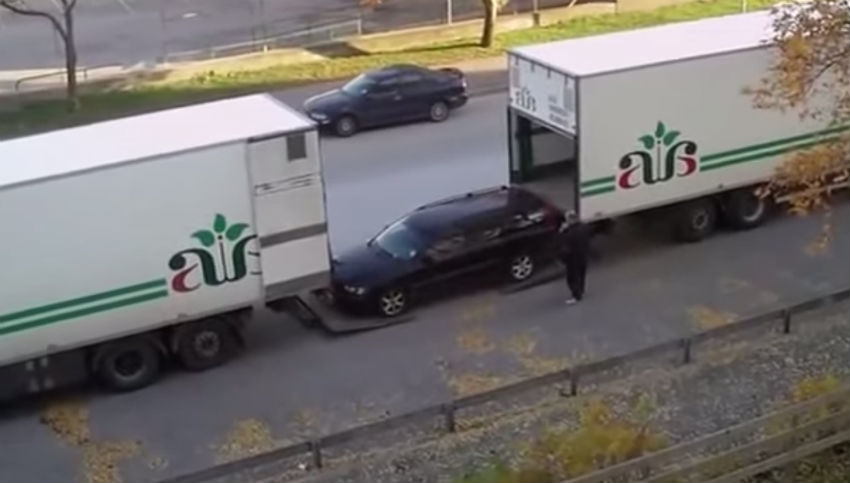 Volvo is famous for making reliable luxury performance sedans and station wagons. With starting MSRPs ranging from $30,000 to $60,000 for select packages, it's something we'd all expect would be handled with care. But these two German truckers seem to have a new idea when it comes to getting one to fit into the back of a semi-trailer.
After all, who has time to mess around with ramps, loading docks and uncool stuff like that? Is it cringe worthy or just plain smart? This loading method isn't something any insurance company would like to see. At the same time, it takes the best traits of tractor trailer lifts – rated up to 4,000 lbs – to their natural advantage. If the vehicle wasn't lined up proper or a gap existed greater than a quarter of the expanse of the tire – we'd be looking at a situation similar to this one.
Volvo vs Volkswagen?
Both of these European car manufacturers routinely compete for the same market – mid-level luxury sedans and station wagons. With attractive price points, both are available to a wide range of consumers and are patent favorites for longevity. For the XC60, Volvo made a conservative move to keep in line with nearly twenty years of XC70 production. (more…)
Focusing on fuel efficiency and a little bit of off-roading, all three major varieties start in the $35k range and go up from there. A forward wheel drive five cylinder and an al