The Clay Pigeon Golf Shot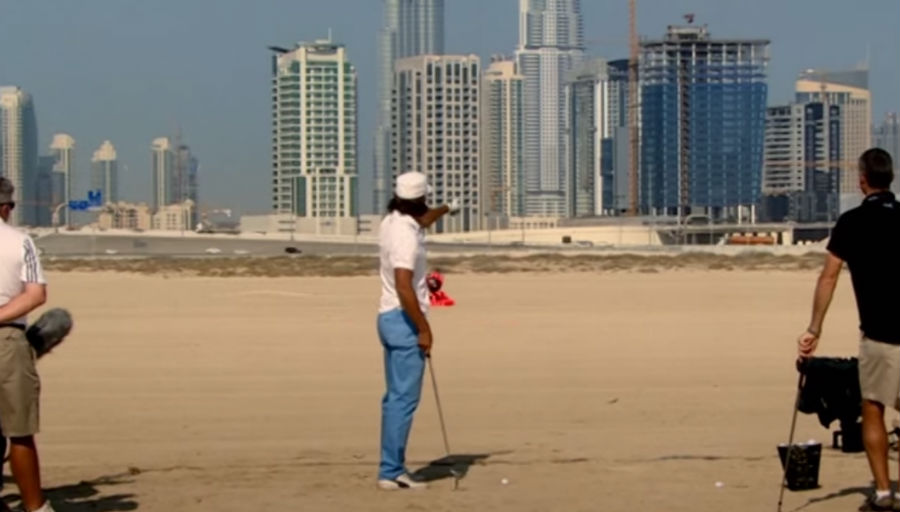 What do you get when you string several European tour golf championship winners together to shoot clay pigeons? Well, in short you get competition and one heck of a good time! This was produced by the European tour and you can see a little bit of magic happening. Featured here are Thongchai Jaidee, a four time European Tour winner, David Horsey, a BMW International Open winner, Johan Edfors, a three time European Tour winner, and Simon Cahn, a BMW PGA champion.
These four golf legends cruise out to Dubai and are met by a host who has loaded up a clay pigeon machine with plenty of clay targets. The host quips that the clay pigeons are larger than a golf ball so the challenge should be easy, however, the golfers look a little more than anxious when they realize the gravity of what must be pulled off in order to make the shot. Simon Cahn even remarks that he wonders if a golf ball will be able to bust a clay pigeon, and they all crack up at the remark. I mean, after all, if the ball won't break the pigeon when it hits it, at least they might have an out if they fail the challenge, right? They could always say they hit it, but it didn't break.
The Competition Begins
At any rate, they lineup and take turns, trying to knock the clay pigeons out of the air. There are a couple of different strategies used. For example, a couple of them try to hit the target when it is at the peak of its flight, while Johan says that he will try to make contact when the pigeon is on the descent. (more…)
In all of this, none of them actually hit the play pigeon the first few times, but they do come remarkably close. In the end, it is Simon Kahn who makes the winning shot, shatteri