RC Car Shreds Through Sand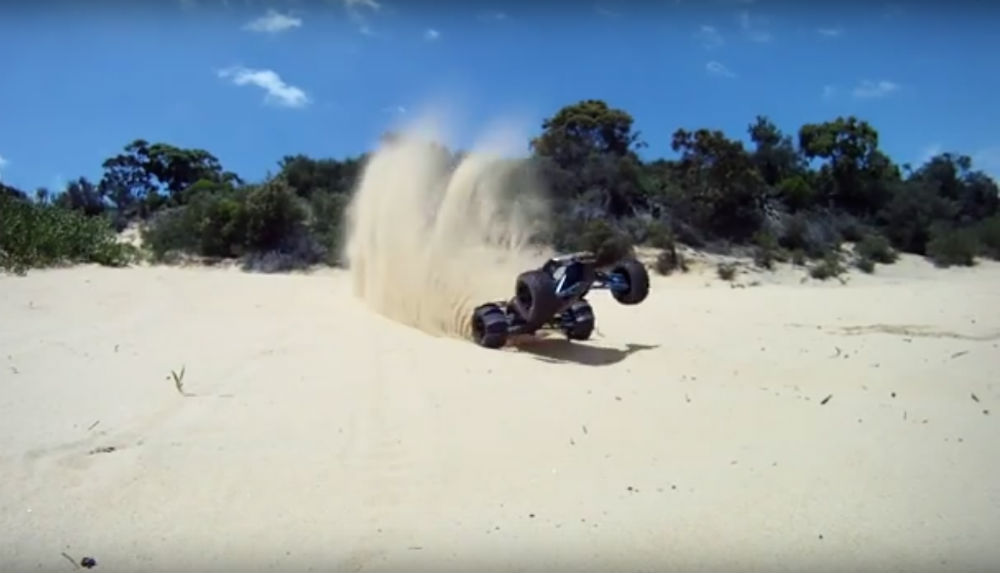 Long gone are the days when radio controlled cars and trucks were simply a novelty item for kids. There's a whole new frontier of RC cars and trucks designed to not just emulate the look of monster trucks in the arena and stock racing cars on the speedway – they can perform like them as well. This shows just one example of taking a high performance remote controlled truck with outfitted tires out onto soft sand and dirt.
It's true – Traxxas certainly leads the pack when it comes to RC entertainment. Featuring a full line of racing models for any taste or budget, they've gotten themselves quite the following of ardent RC enthusiasts. And for good reason! Not only can vehicles like the E-Revo achieve speeds of up to 65+ mph, they can handle in true 4WD. It's one of the reasons why after-market modders have taken a liking to these cars and trucks! Out of the box, they can tear up the road and mud.
From the design down to the execution, this RC car was built with a waterproof MXL-6s Brushless Power System. While lesser RC vehicles will short in rain and bad conditions, the Traxxas E-Revo can go through mud and puddles without fear of shorting out.
While the Traxxas E-Revo remote control car advertises up to 25.2 Volts available for its Brushless Power system,
14.8 V is the standard configuration. And even with that, it's able to achieve top speeds of 40 mph! So, not at all bad, E-Revo. We'll discuss how it can be made even better with a few simple modifications.
Bluetooth Connectivity with Smartphone
Traxxas E-Revo now features a crystal clear radio system tuned to 2.4GHz. This line of sight TQi Radio System comes with the Traxxas Link Wireless Module – making it possible to finally link this RC car through a Bluetooth connection. Now your smartphone is also a way to keep track of this vehicle! (more…)
It's also extremely user friendly and informative in its displays. The E-Revo Traxxas is equipped with an RPM/speed sensor, motor temperature, and voltage telemetry sensors whi