Charter Boat Gets Unexpected Guest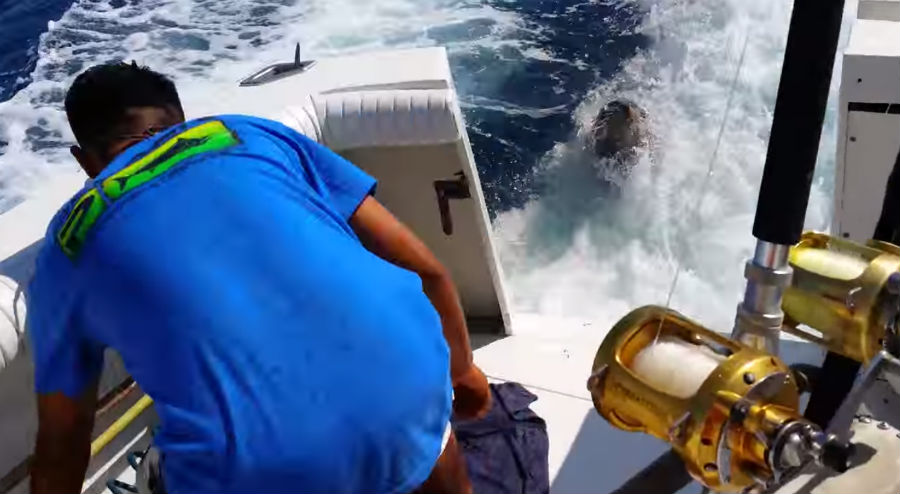 At the tip of the Baja, where the Sea of Cortez meets the Pacific for the first time, rests one of the most pristine recreational fishing reserves in the Pacific. And Cabo San Lucas is where tourists from across North America and even the international community come to take part in the experience of a lifetime. And that's just what happened to the guests of the charter boat.
Across the gilded waves, chartered fishing vessels roam across a stretch of 100 km deep sea waters that give an unparalleled opportunity to interact with Marlins, Sea Lions, Yellowfin and an assortment of Tuna. Did we say Sea Lions? Yes, as you've surely noticed, the Sea Lions roaming through these waters love to trail behind the chartered fishing boats leaving from Cabo San Lucas. Friendly and comical, they'll gladly trawl behind trying to make friends with fishermen looking to toss them a few fish.
Not Your Typical Fishing Trip
Recreational sport fishermen have come to admire this southern tip of the Baja peninsula for a number of reasons. Hosting the classic tastes of Mexican seafood and accommodations alongside plenty of good beer and company – Cabo San Lucas has become one of the premier places to take some down time and catch some of the most prized fish in the world. (more…)
There's a wide variety of chartered fishing vessels to choose from. Many American and Canadian expats have fallen in love with this stretch of territory and have established a