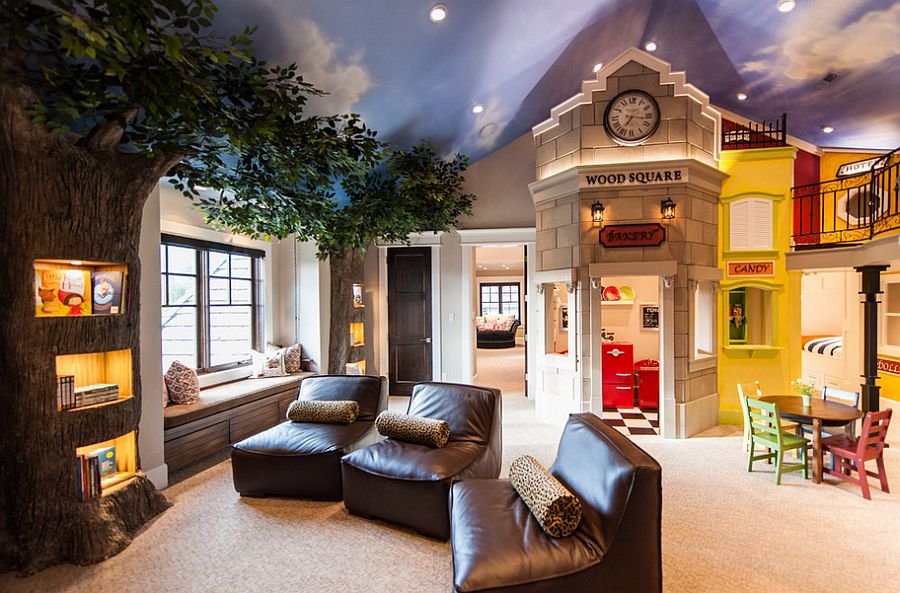 From hanging swings to aquatic aesthetics, we have no doubt the owners of these 50 kid bedrooms are the envy of all their friends-and maybe even their parents.  Here are 50 of the coolest kid bedrooms you wish you had as a kid.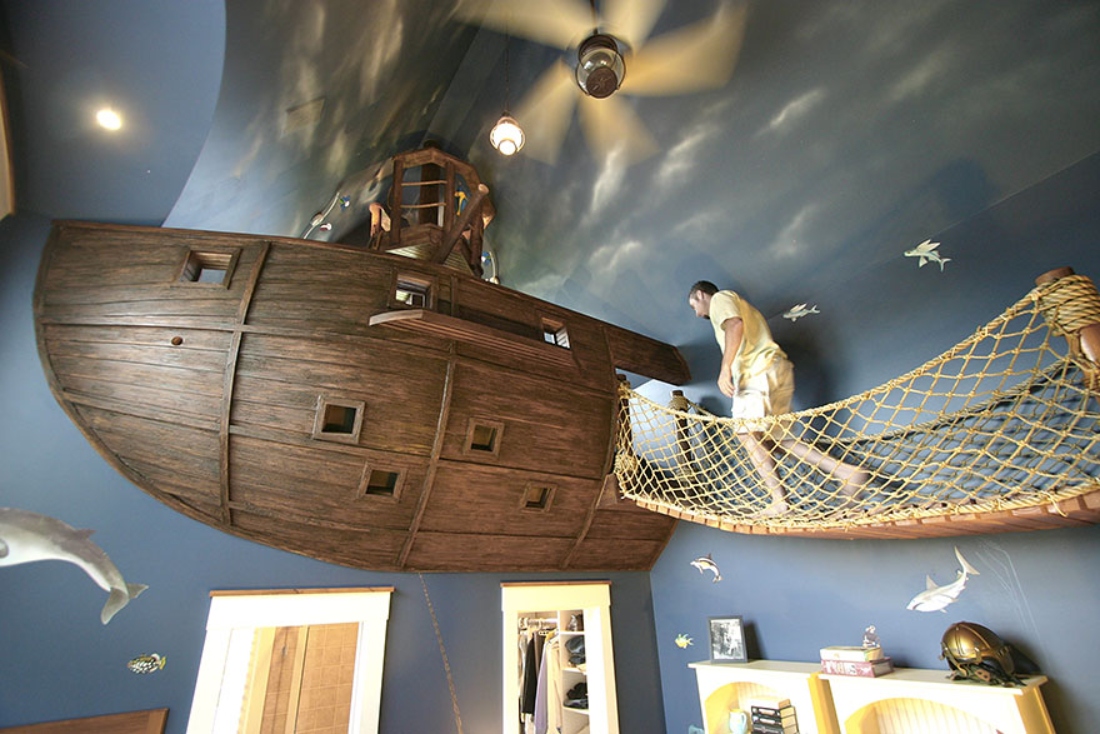 Ships Ahoy
The lucky child of this bedroom can enjoy a day at sea whenever they want.  With its rope walkway leading to a solid wood boat surrounded by painted sharks on the walls, there's plenty of space to do homework, play, or just hide away from the real world (or your parents).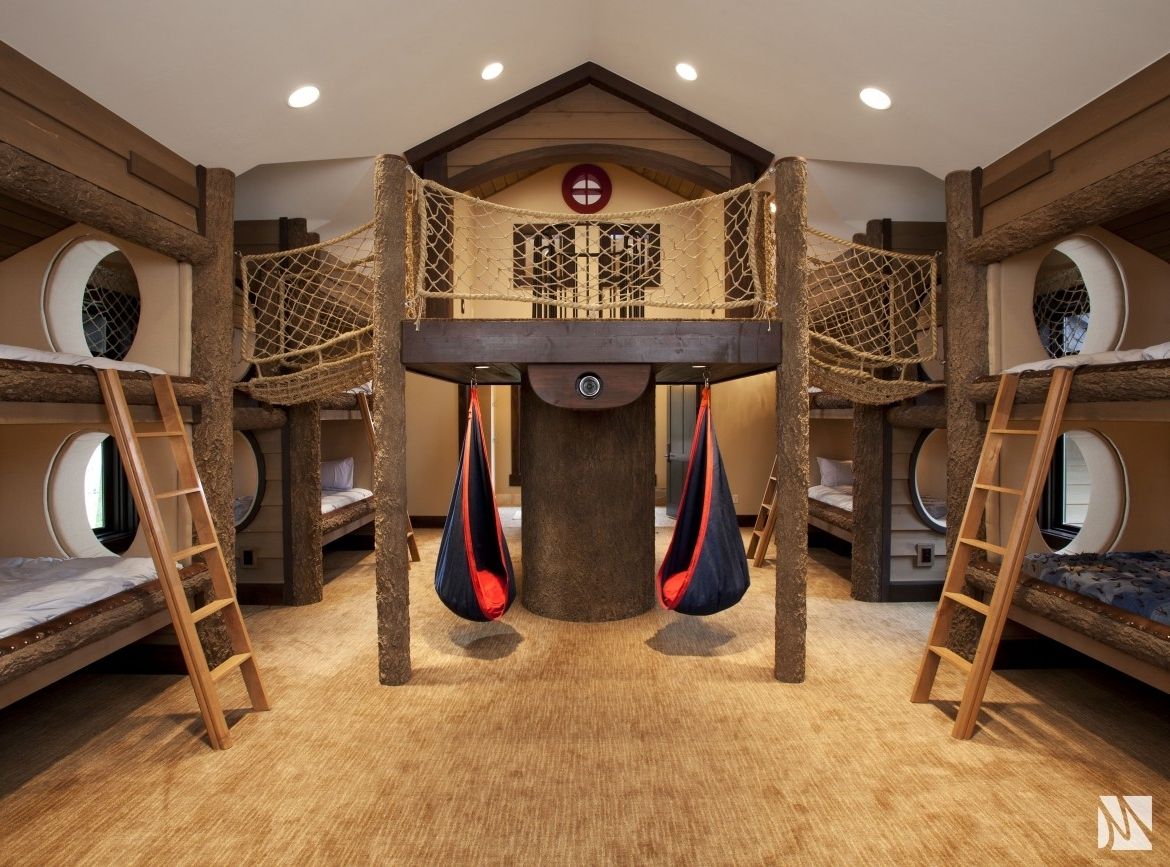 Hidey Hole Playground
Whether this bedroom is for one lucky kid and five of his best friends, or for a house full of boys, this bedroom looks like more fun than most playgrounds.  From its rope bridge, hidey hole bunkbeds and hanging chairs, the owners of this bedroom will never get bored.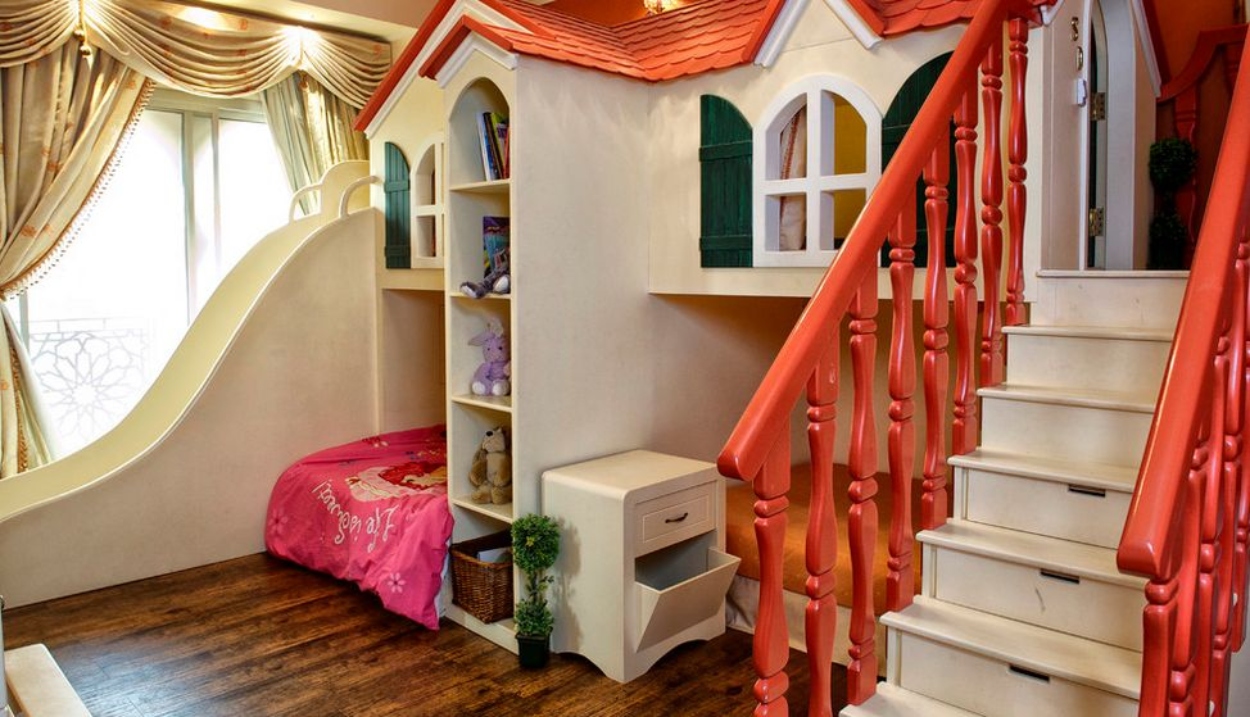 Life-Size Playhouse
Who needs an outside playhouse when you can have a life-size playhouse in your bedroom?  The bed is tucked into a cozy corner, while the stairs lead up to the playhouse itself.  A slide on the other side makes coming downstairs for dinner super fun.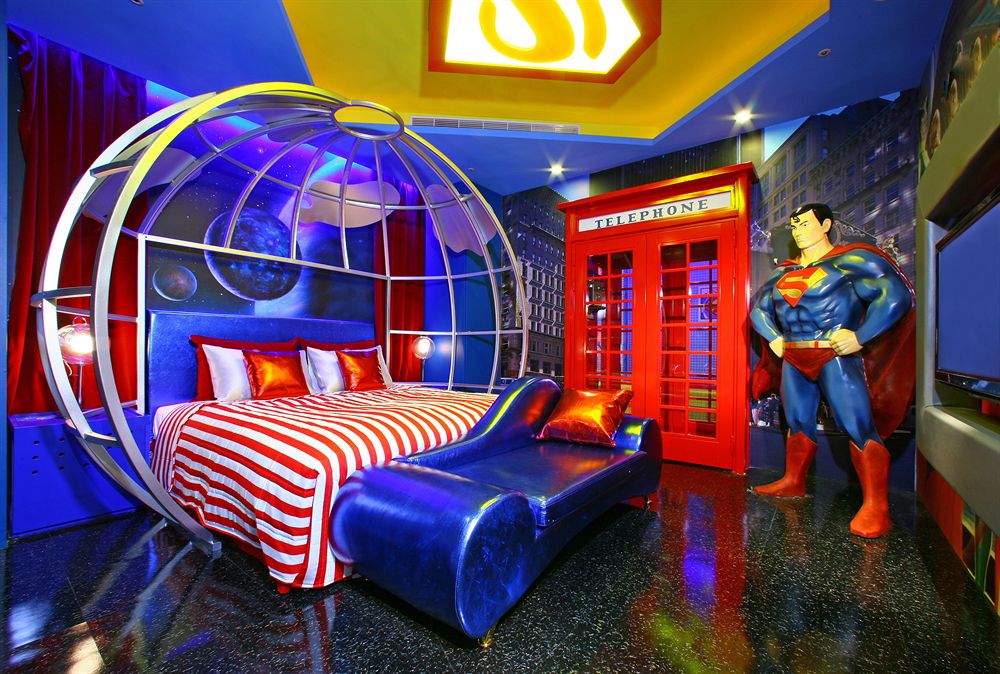 Superman Room
Whoa, talk about a fortress of solitude. This bedroom will make every Superman fan fly with joy and envy. Unlike the Man of Steel himself, kryptonite will not affect this room's awesomeness.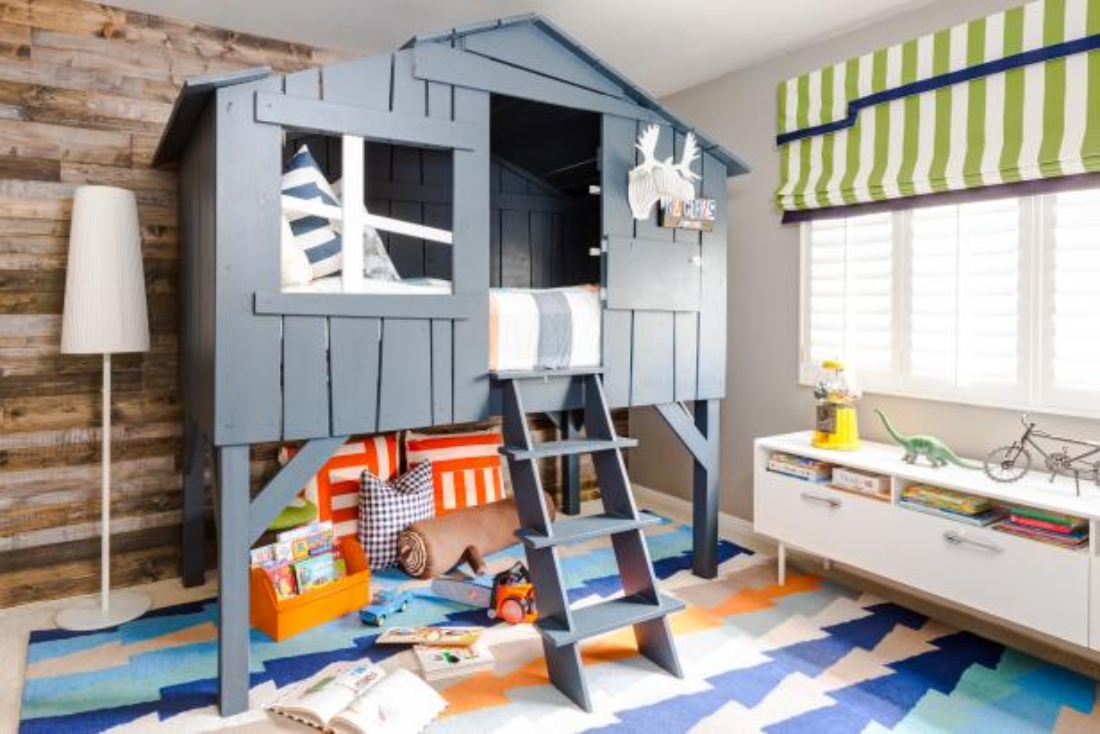 Treehouse Bed
Going to sleep has never been more fun with this treehouse bed.  Take the stairs to enter into the treehouse, that serves as a cozy bed.  The elevated treehouse allows for extra floor space.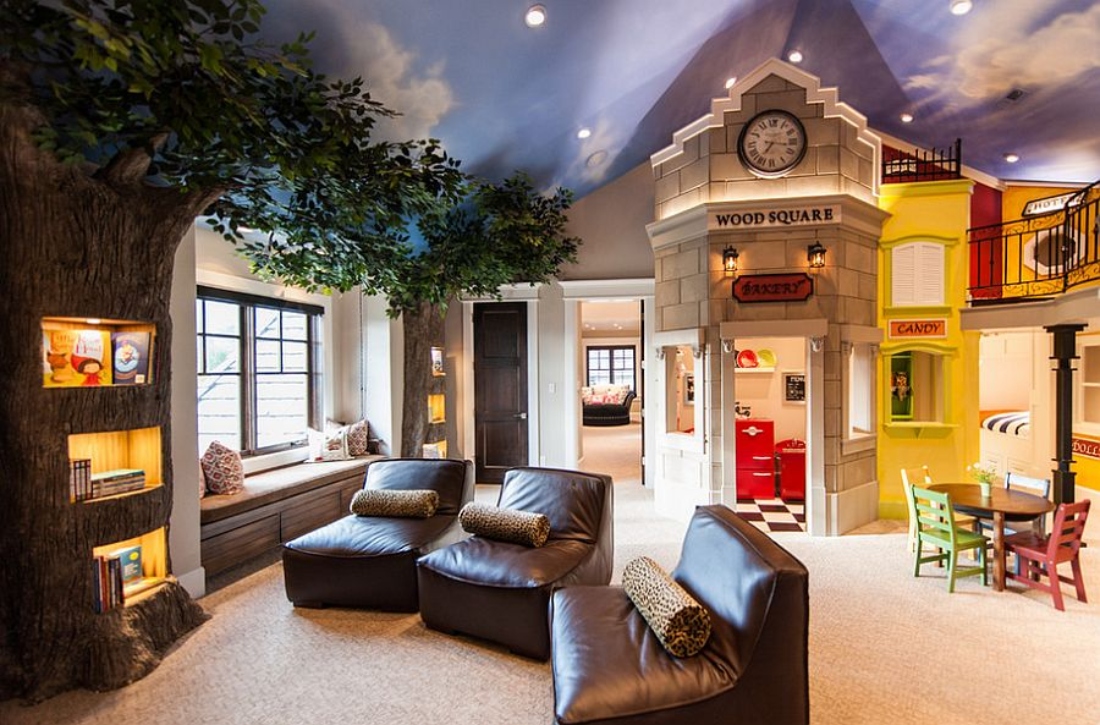 Entertainment Station
Is this a kids' bedroom, or an entertainment complex?  The leather chairs are perfect to kick back with your two best friends, while the tree trunk bookshelf holds all your books.  Beyond this cozy corner is a child's own kitchen table, bakery, and candy stand, beneath a loft walkway.  This kid's bedroom is bigger than some people's houses.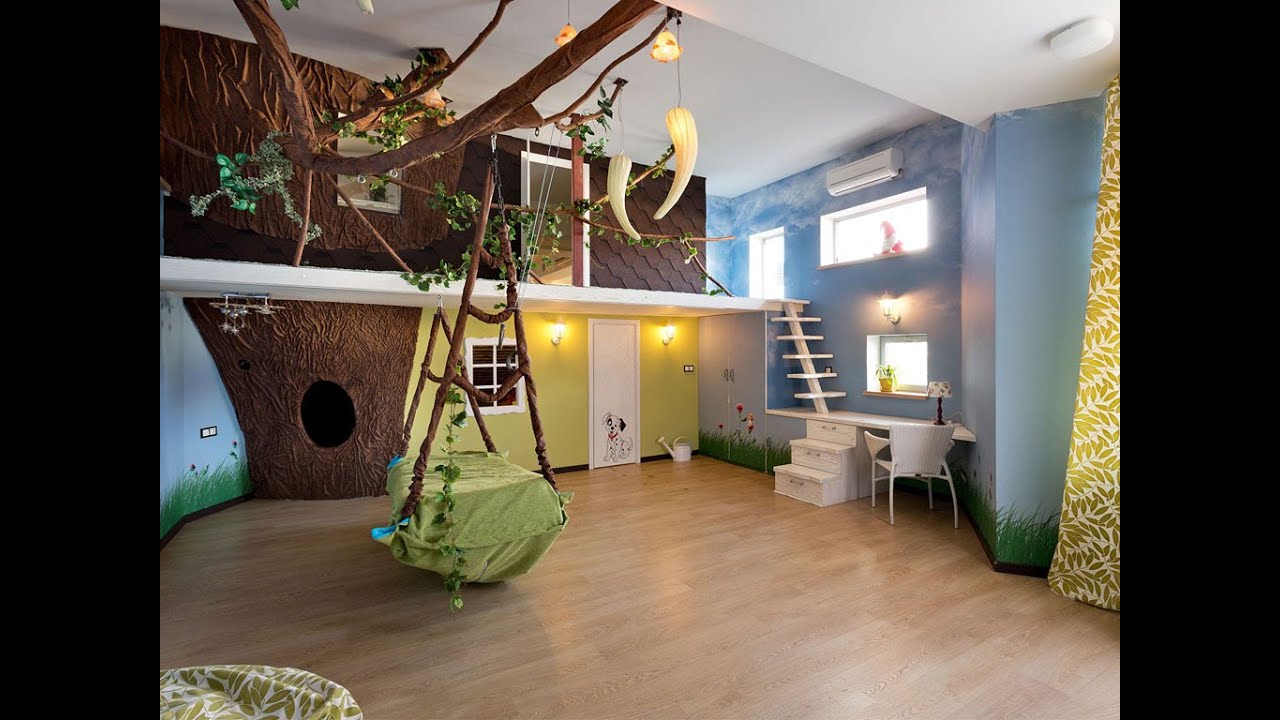 Backyard Fun
This kid's bedroom brings the best parts of the backyard inside.  A twin-size bed hangs and swings from vines while a step ladder leads to a loft area roped off by more vines, leading to tree branches that extend out into the room.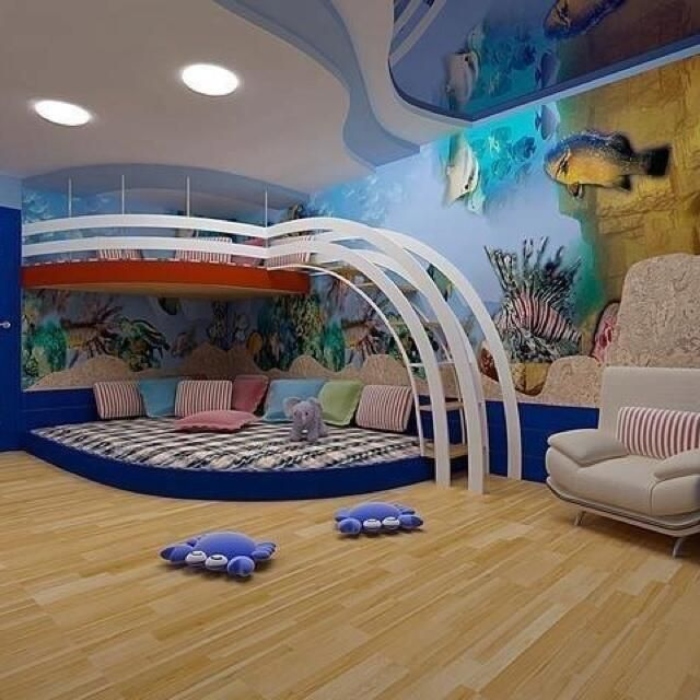 Under the Sea
A set of curving stairs doubles as a waterfall, leading up to an elevated bed under the sea.  A cushy mattress below the loft serves as a cozy corner to get homework done and is surrounded by a painted aquatic scene on the walls, giving the look and feel of an ocean floor.  Blue stuffed crabs complete the aquatic feel of this bedroom.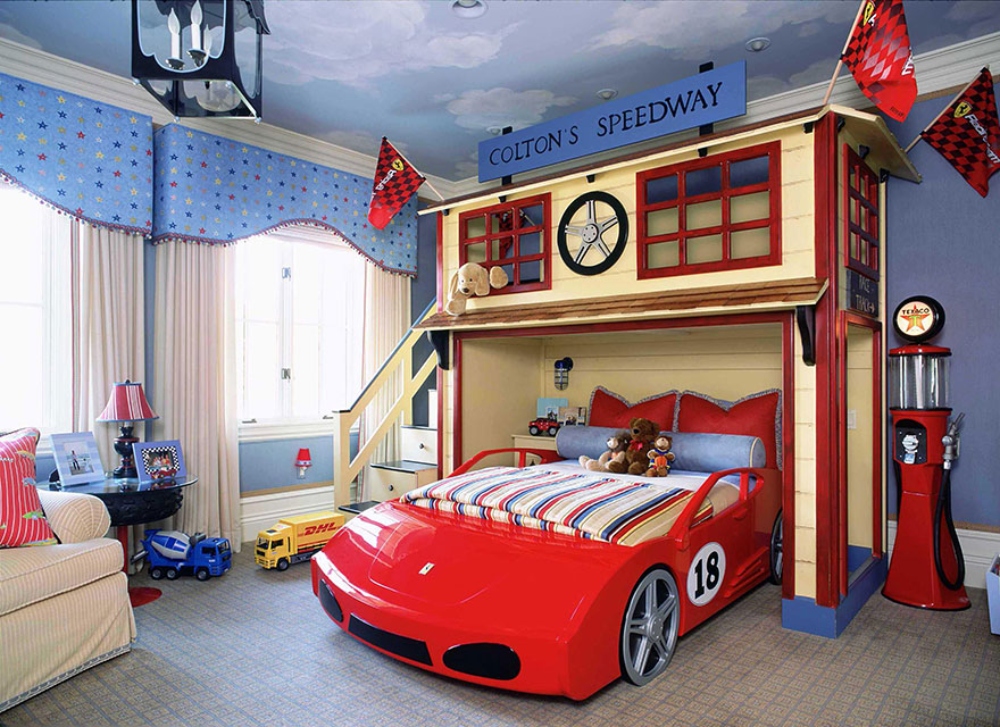 Speedway
Far from your typical racecar bed, this kid has his own speedway!  With steps leading up to a loft, a fuel pump, and full-size Ferrari racecar bed, this kid's room gets first place.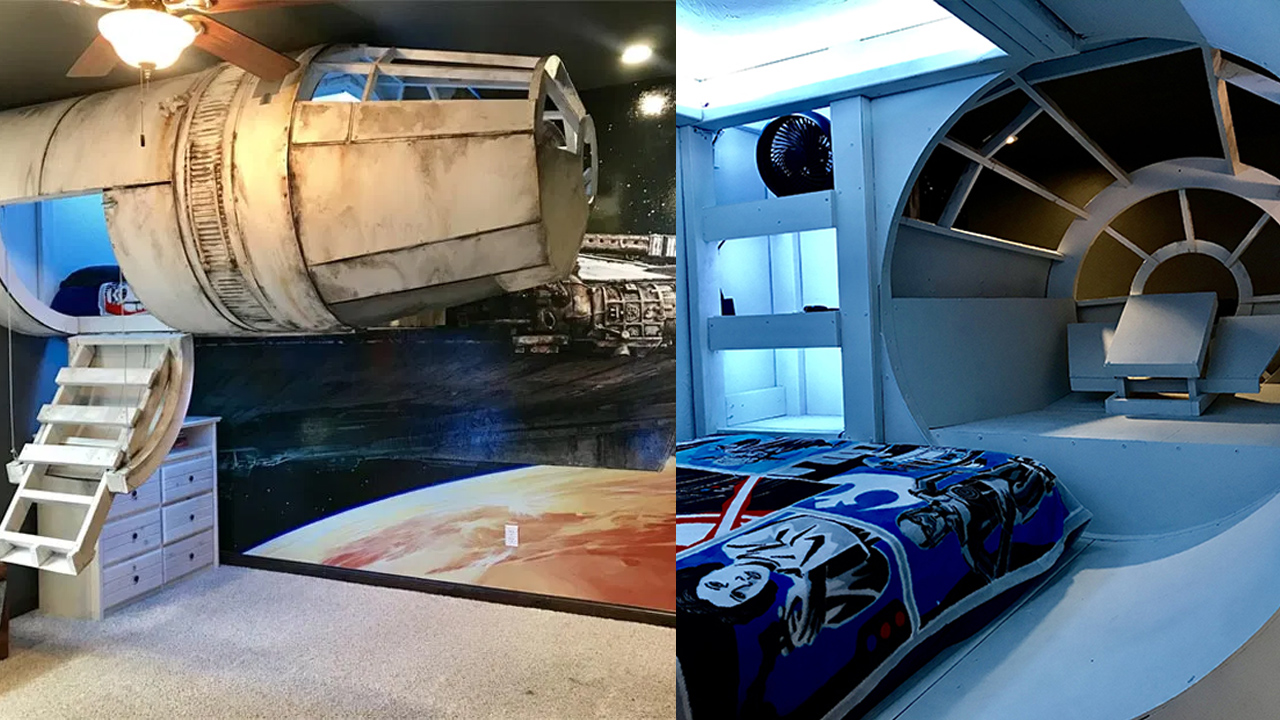 Millennium Falcon
This room looks like it is from a "galaxy far, far away." Check out the Millennium Falcon bed. It is perfect for all the young smugglers out there. Han Solo doesn't even sleep with this much comfort.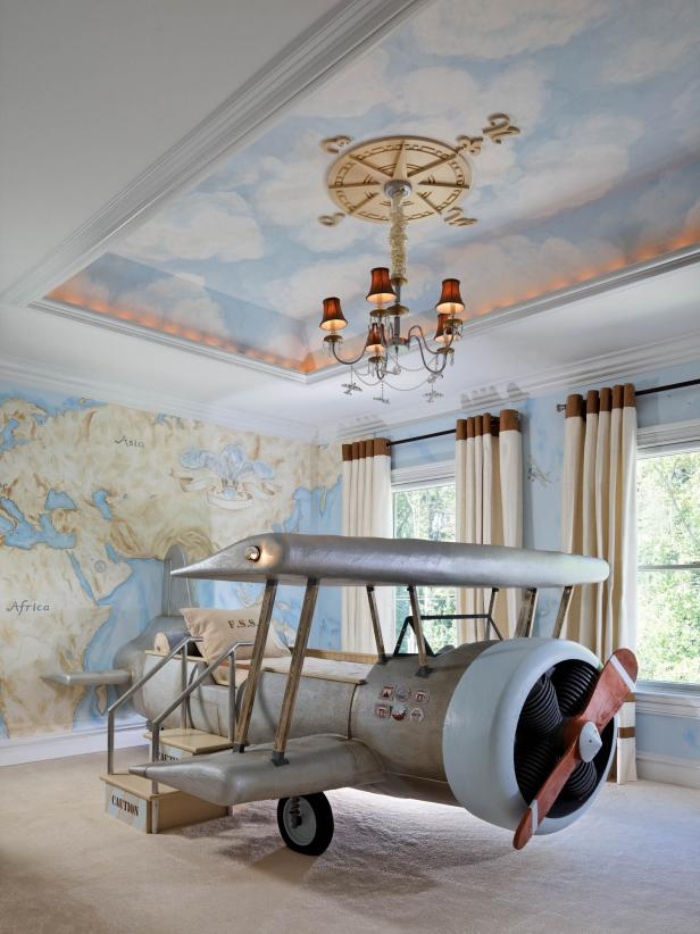 Around the World
With an airplane bed cool enough to make even the Wright brothers jealous, this child is on  the brink of becoming a world traveler.  Continents paint the walls and beautiful clouds surround a compass chandelier.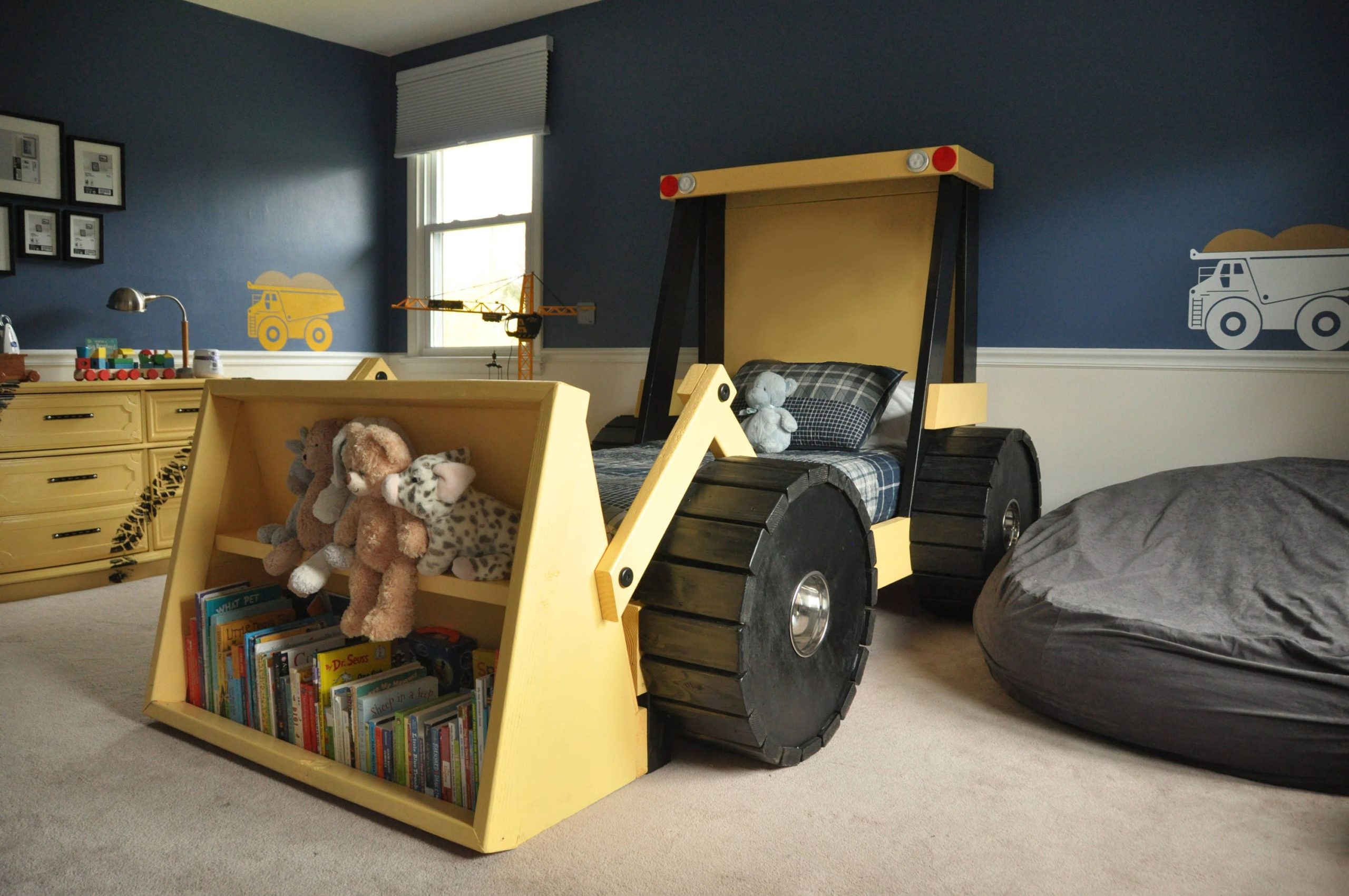 Tractor Bed
This monster tractor bed makes racecar beds look so last year.  Its front loader doubles as a bookshelf, providing space for this child's favorite toys and books, while the massive bean bag chair is a great spot to kick back and relax.  Painted dump trucks drive around the walls to complete the room.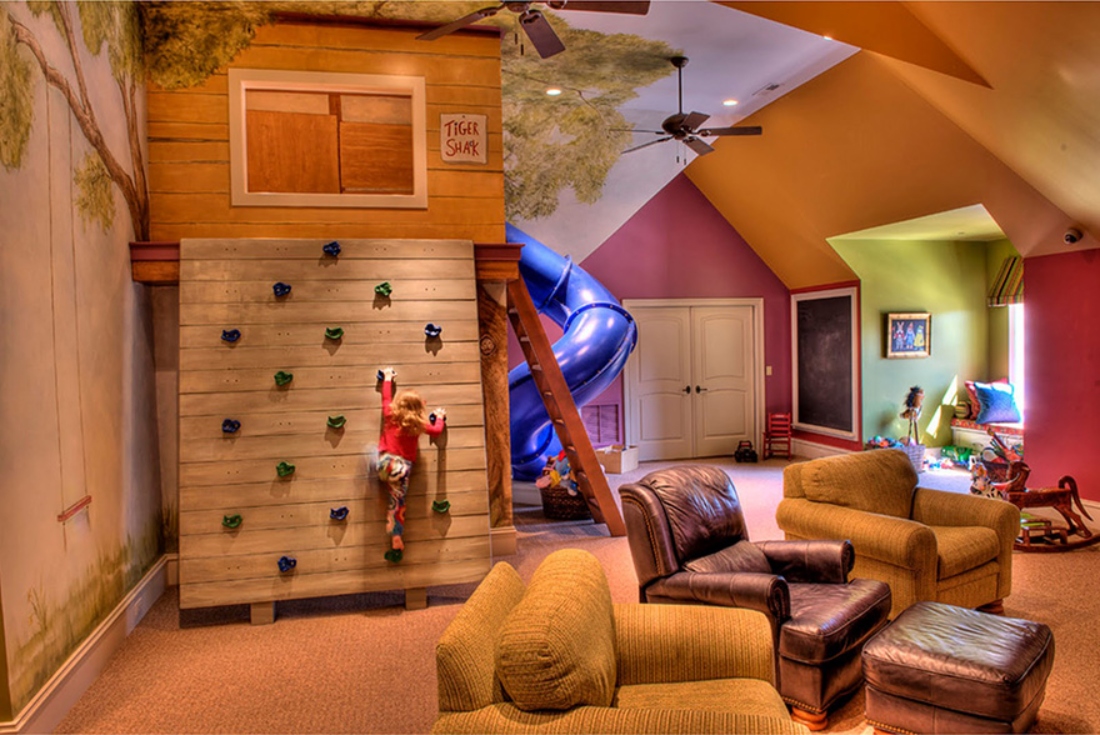 Wall Climber
This child's bedroom has a built-in climbing wall leading to a treehouse!  A step ladder leads up to the treehouse while a blue tubular slide leads the way down for when it's dinnertime.  A corner window provides a cozy spot to do homework, and the stuffed armchairs provide a place to hang out with best friends.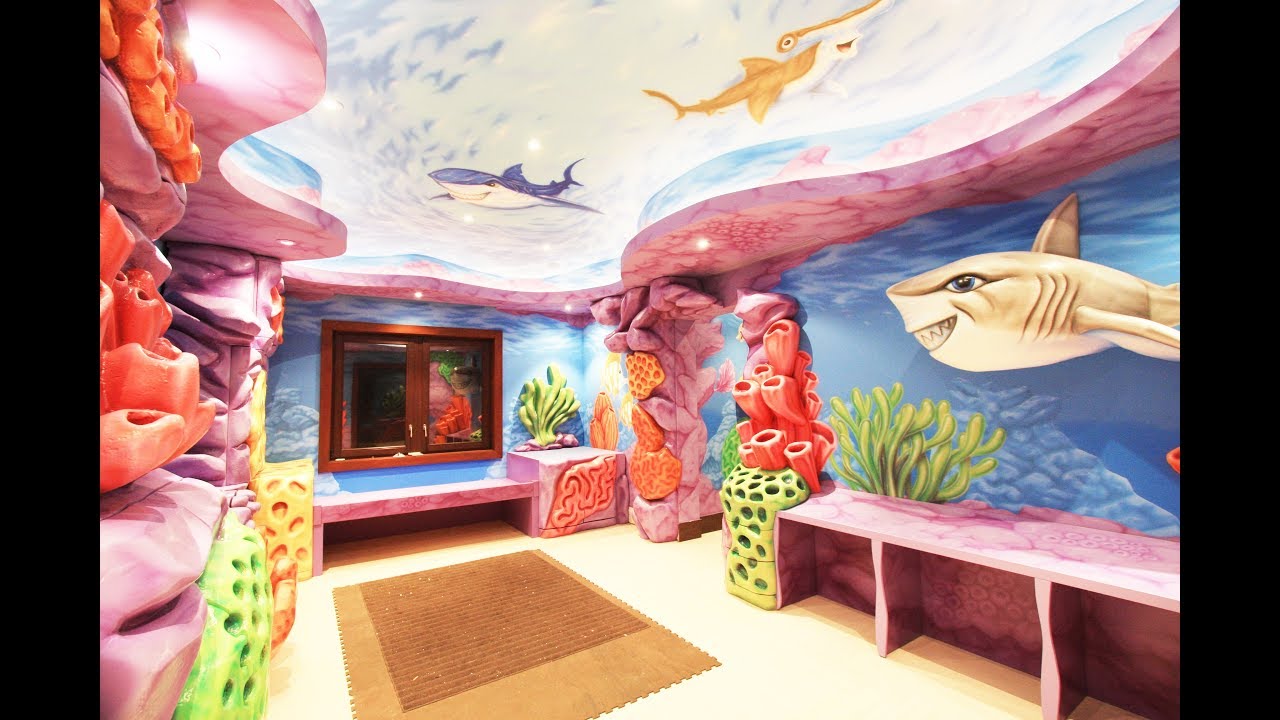 Underwater Grotto
Built-in benches surround an underwater grotto, complete with sea plants and sharks.  This bedroom is enough to make The Little Mermaid's Ariel even jealous!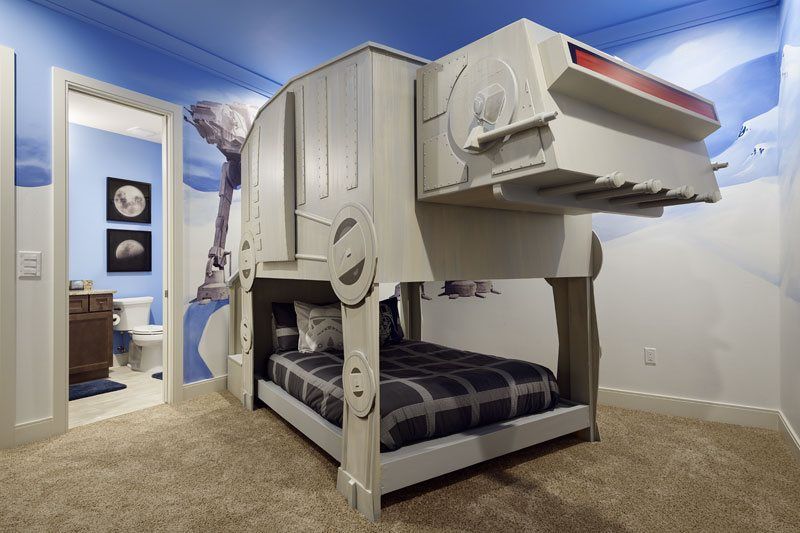 AT-AT Room
Have you ever wanted to have the sensation of sleeping under an AT-AT walker from Star Wars? Well, maybe you didn't, but this kid sure did. Check the level of carpentry that when into this bed and how cool the walls look. It's like you teleported to Hoth.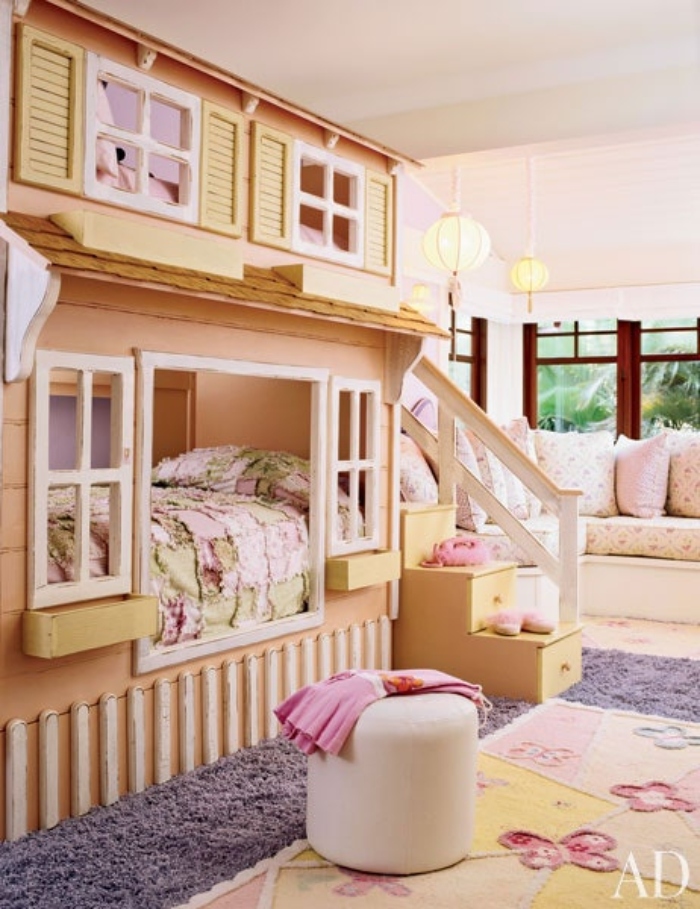 A House within a House
This child's bedroom has its own house!   A bay "window" in the house leads to a cozy bed, while nearby stairs take you up to the second floor.  Pink butterflies align the floor and a picture window provides a great place to get some homework done.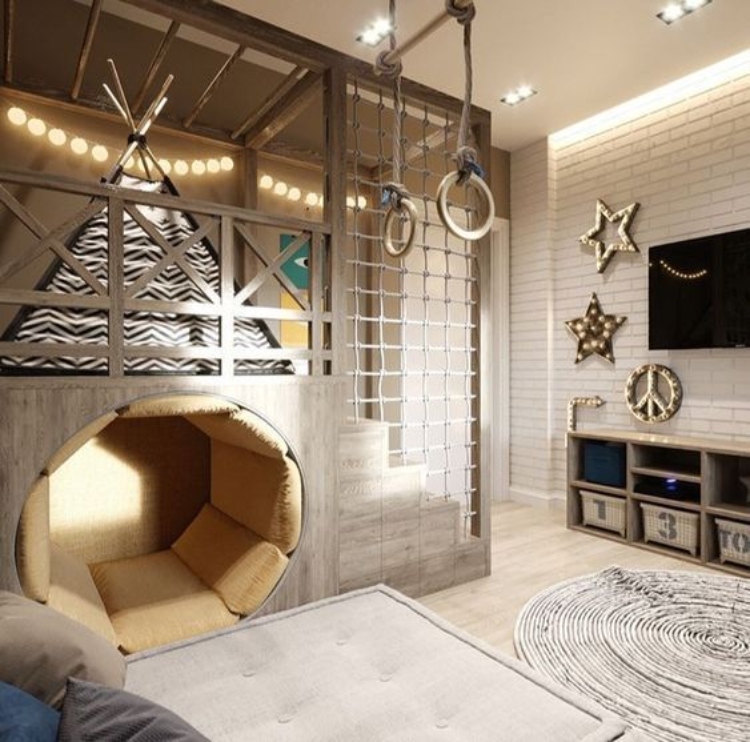 Teepee Hideout
Built-in stairs lead to a teepee hideout in the loft.  Extending from the ceiling are two rings for swinging around and burning off some energy.  Beneath the loft is a circular tunnel that doubles as a couch, while light up stars adorn the walls, surrounding the television.  We're going to guess there are video games in the numbered baskets.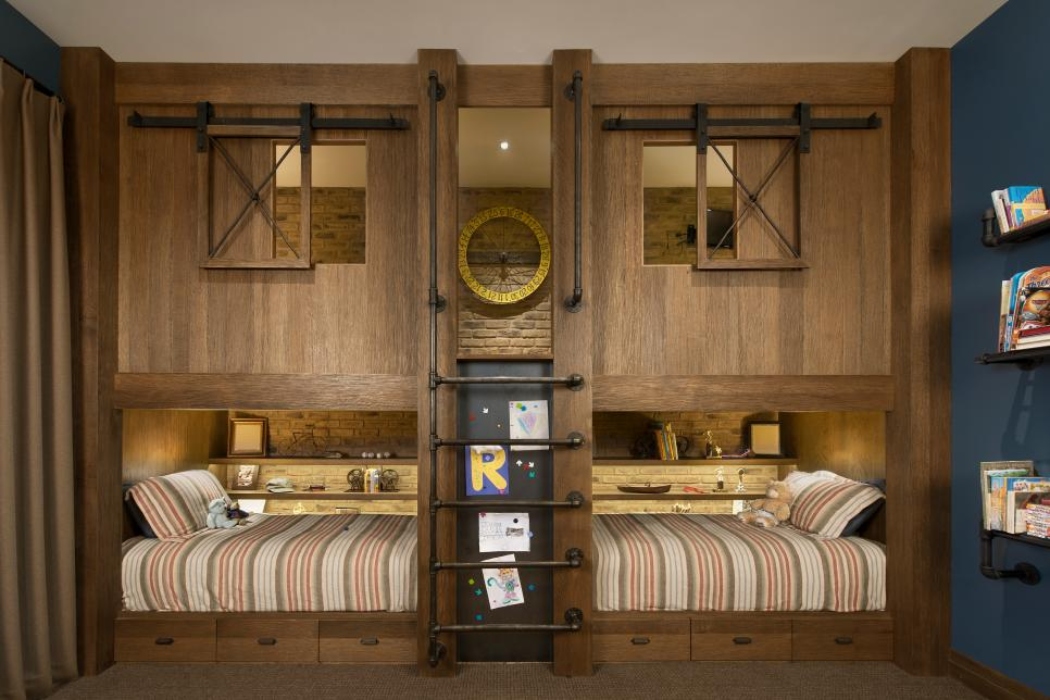 Barn Bedroom
This barn-style bedroom allows two siblings to have their own space-no need to draw a line through the center of the room!   Two full beds divide the rom with wooden dresser drawers built in underneath.  Barn-style windows complete the loft area and metal piping serves as wall shelving for these siblings' favorite books.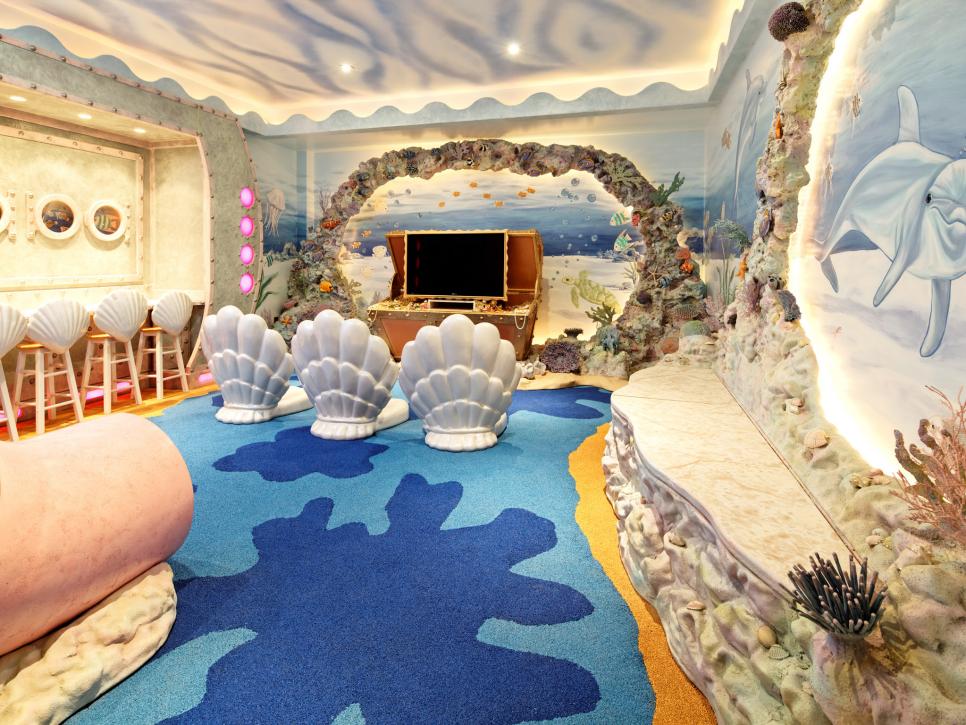 Buried Treasure
This underwater seascape has painted walls featuring whales, fish, and sea plants.  Three shell seats are positioned in front of the buried treasure-the TV!  That's right, an opened treasure chest holds the television set.  Shell-backed stools line against the wall and provide a place to enjoy pizza with friends.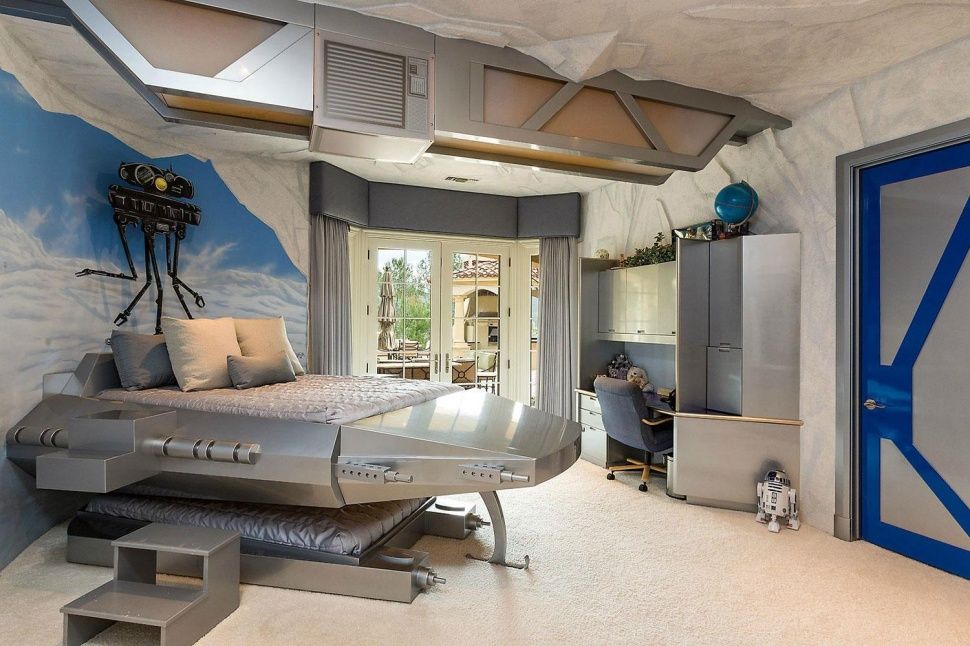 Echo Base
Check out another incredible Star Wars room. The scenery is ripped right out of the Empire Strikes Back. Now, what kid wouldn't want to stay here?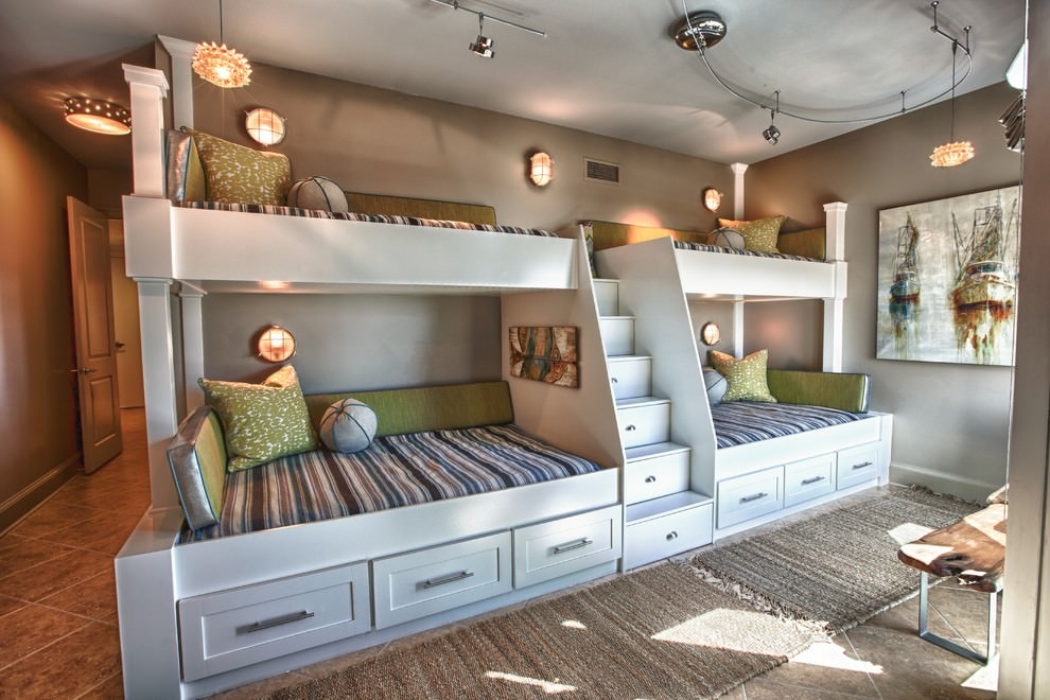 Quadruple the Fun
Whether this bedroom is for four siblings or for a child and three of their closest friends, we're not sure.  But one thing we do know, this beautiful double bunkbed will make the children in this family the envy of all their friends.  Two full-size beds lead up the stairs to two twin-size beds.  The steps double as dresser drawers, providing enough room for all the inhabitants of this bedroom.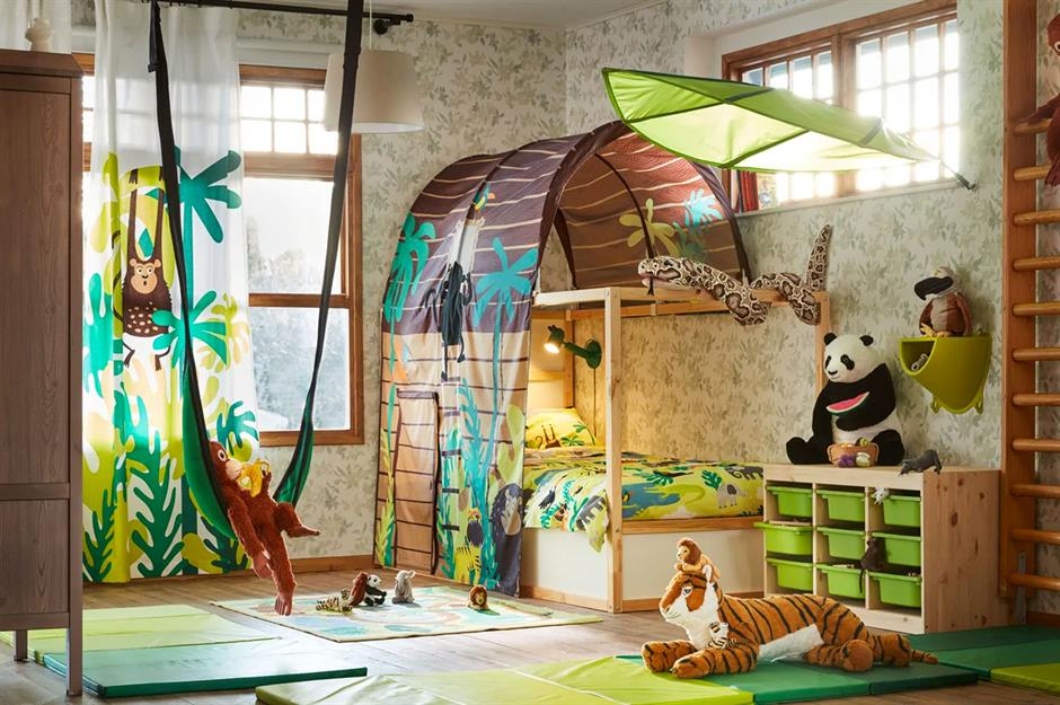 Jungle Fever
The high ceiling in this bedroom makes it the perfect room for a jungle-themed canopy to splash down over the bed, while a swinging vine hangs from the ceiling for money friends.  A wooden dresser with green sliding drawers hold all the child's favorite toys, while big stuffed jungle buddies complete the set up.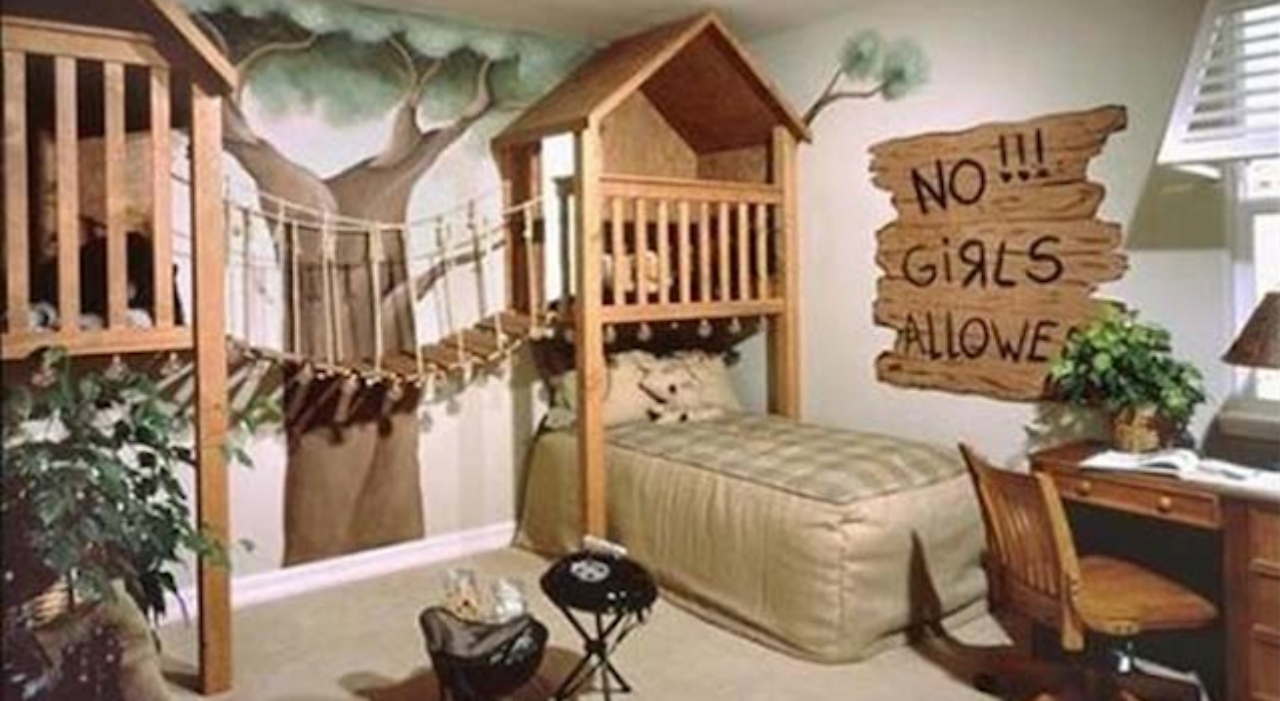 No Girls Allowed
No girls allowed on this campsite!   A rope ladder crosses between both sides of the loft playset while the bed is conveniently tucked underneath.  A pretend grill gives the illusion of a campsite, and a desk offers the perfect place for homework.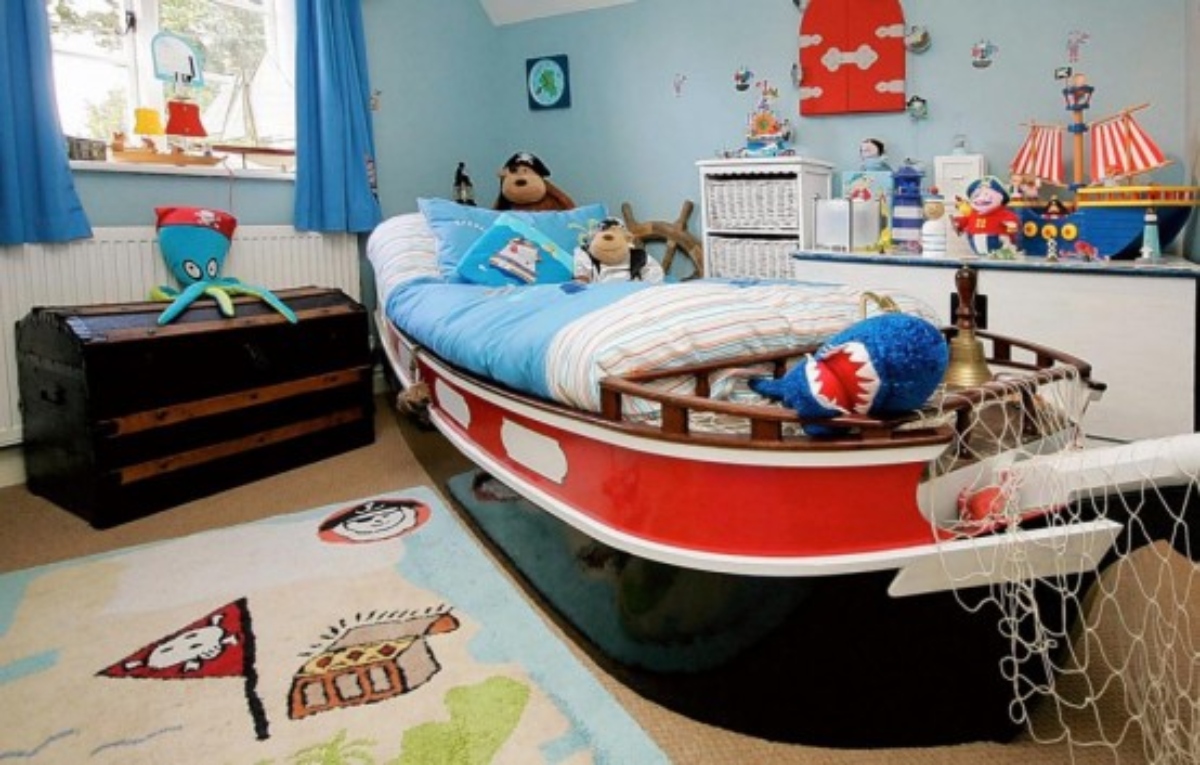 Ship Out
The lucky child of this bedroom sleeps atop a ship!  The ship bed divides the room in half and is surrounded by a treasure chest and the child's favorite sea creatures, including an octopus and shark.  Netting at the end of the bed is perfect for catching fish.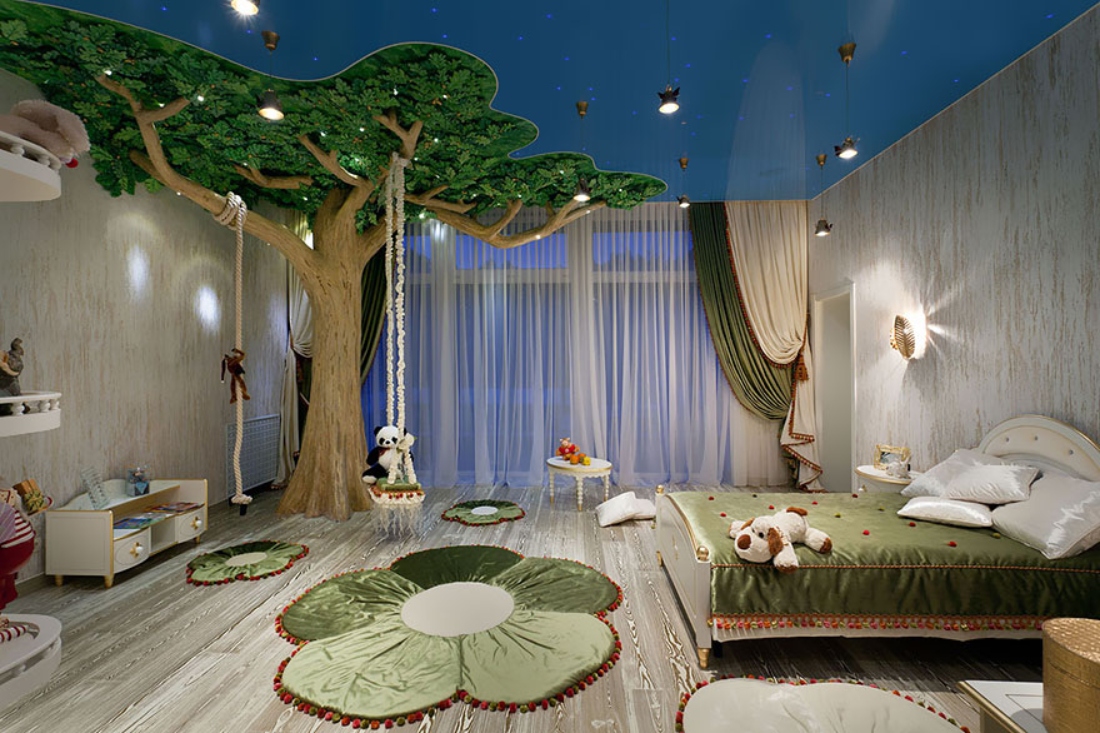 Underneath the Stars
This bedroom gives the illusion of sleeping underneath the stars.  Twinkling stars and lights decorate the ceiling, giving the illusion of an open sky.  Friendly animals swing from tree swings, and the queen-sized bed has a plush green comforter and matching flower rugs, completing the summertime feel of stargazing.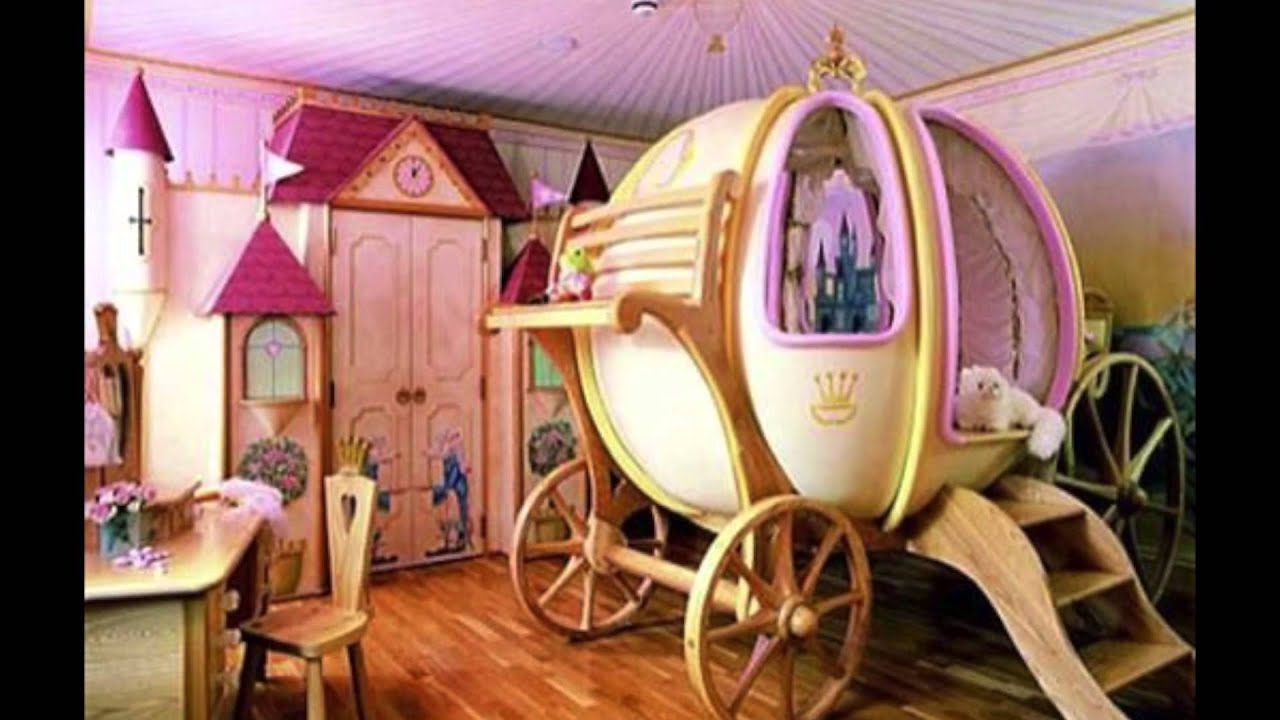 Fit for a Princess
This child didn't need a fairy godmother to complete this bedroom setup.  A pumpkin carriage holds a bed, while medieval castle doors lead to a closet.  A bedroom fit for a princess that would make even Cinderella jealous!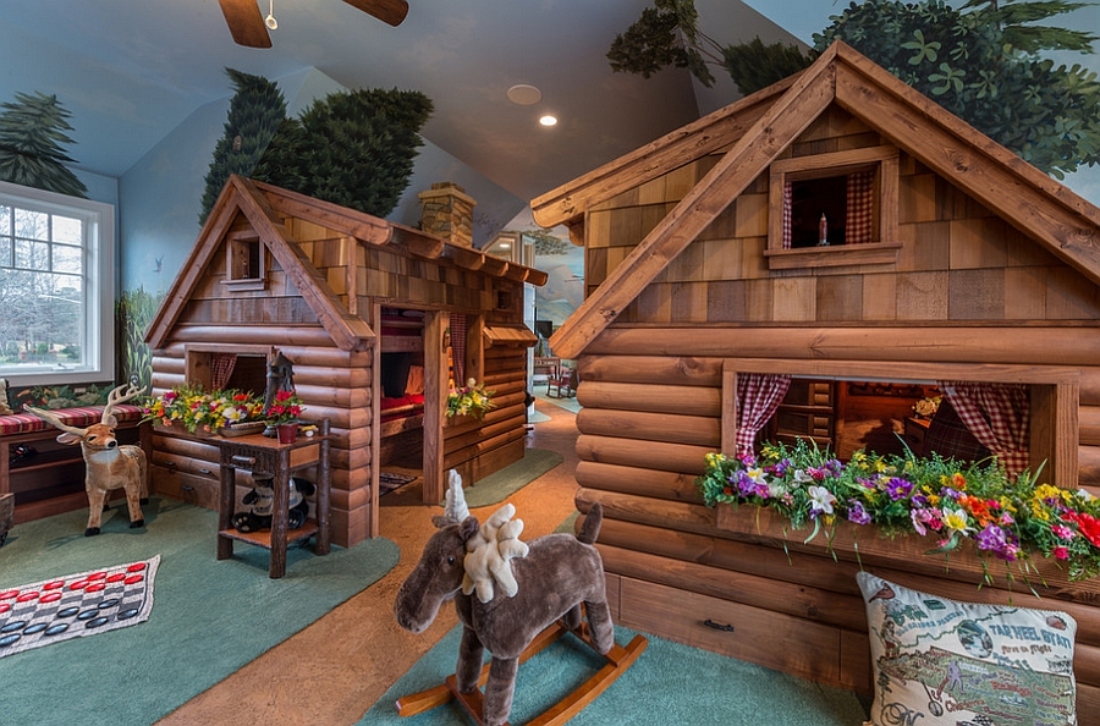 Log Cabin
Who needs Lincoln Logs with this bedroom?  Two log cabins contain beds and even have their own flower beds.  Deer and moose friends complete the woodsy aesthetic.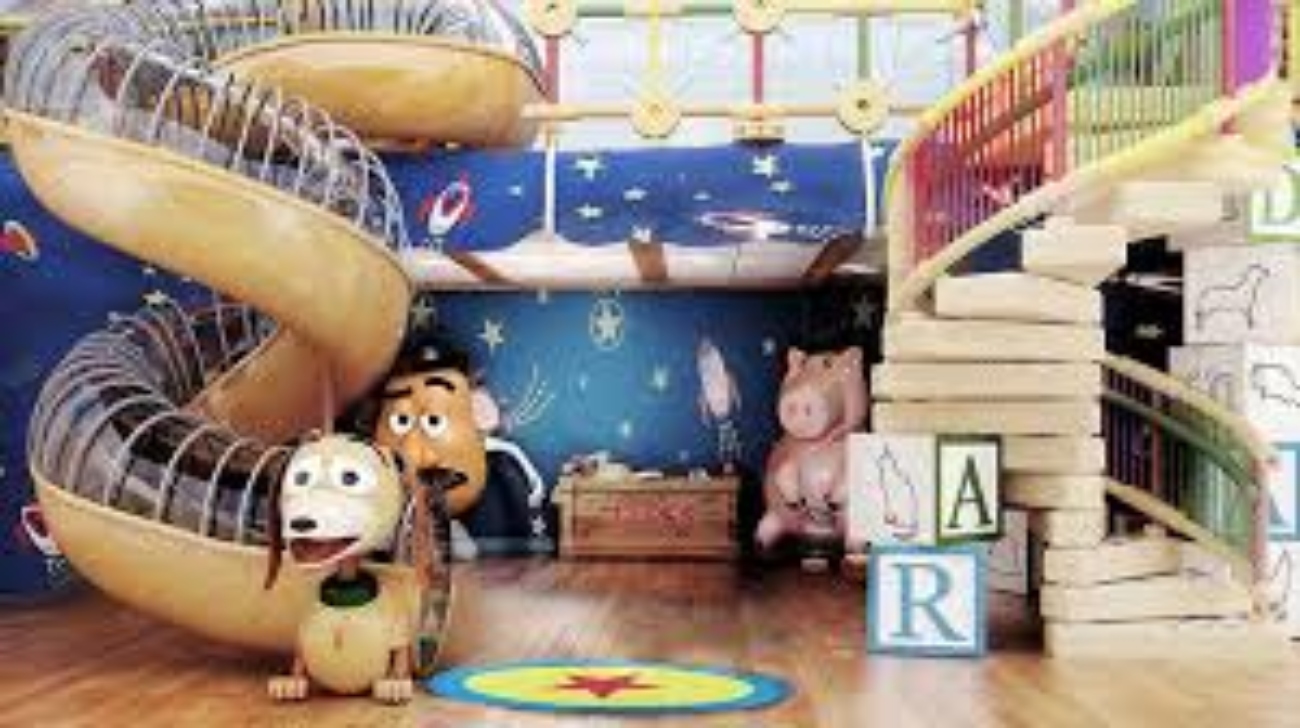 Out of this World
This galaxy-themed bedroom is out of this world!  With a winding staircase going up to a loft and a twisty tube slide going down, this child is never going to want to come back down to earth.  Spaceships and stars painted on the walls complete the galaxy theme of this bedroom.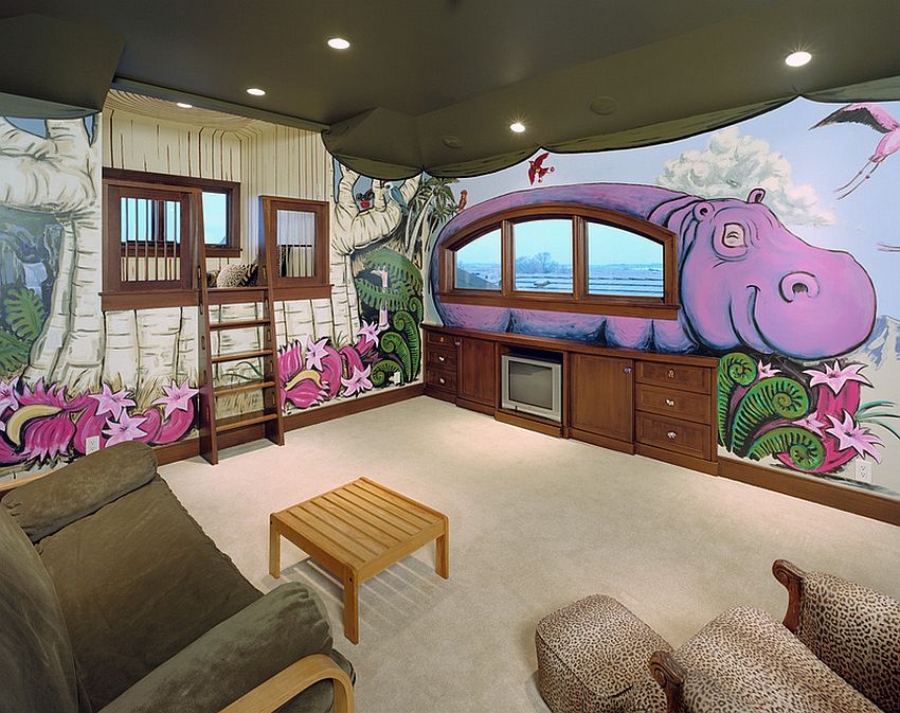 Welcome to the Jungle
This jungle-themed bedroom features a painted hippo with a view, cheetah-print chairs, and a ladder leading up to a loft.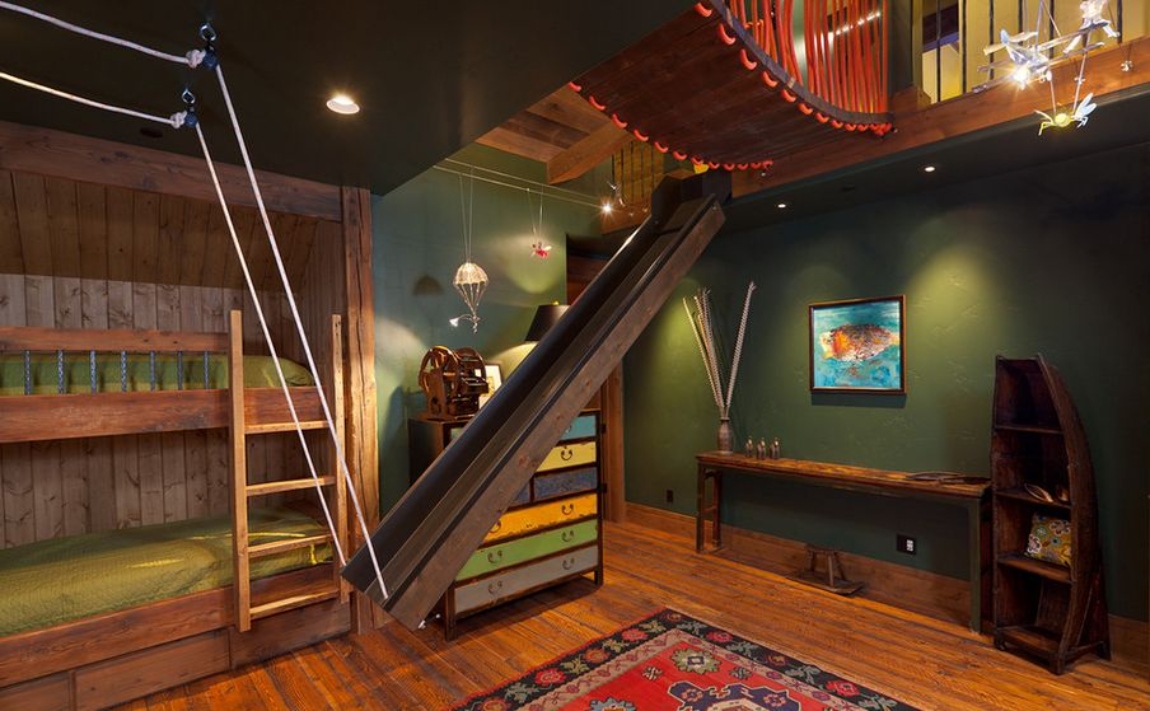 Adventure Awaits
The siblings of this bedroom are in for an adventure.  Built-in bunk beds offer a cozy place to sleep, while up above is a drop-down slide.  A rope bridge completes the loft area, proving this bedroom is way more fun than any school playground.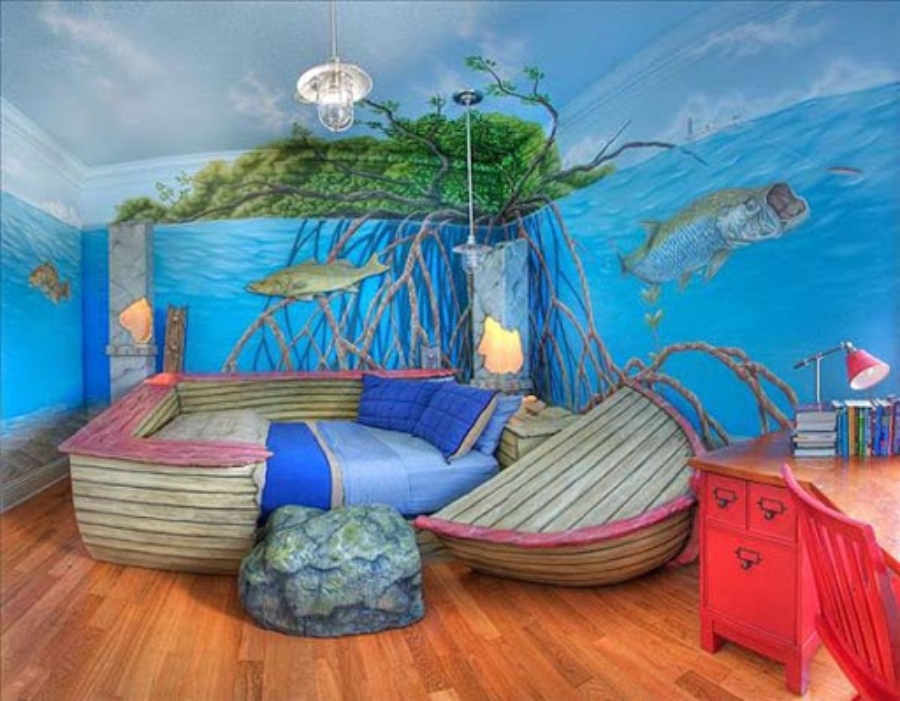 Shipwreck
A double bed is set in a shipwrecked boat, surrounded by sea friends swimming at the bottom of the sea.  A desk area provides a great place for doing homework.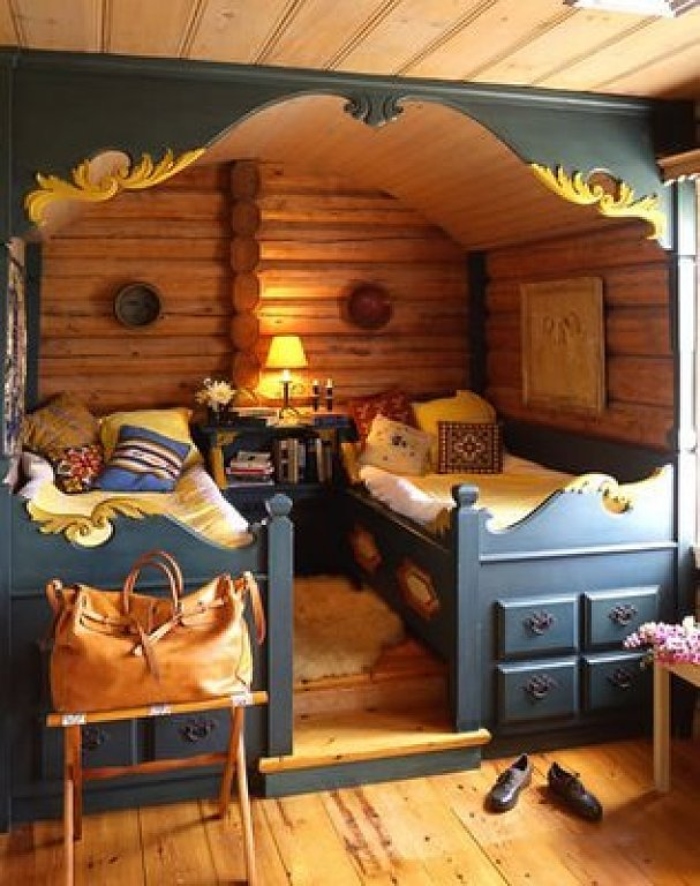 Cozy Cabin
This bedroom doubles as a cozy cabin for two siblings and features two elevated beds with built-in dresser drawers on the ends.  A log cabin motif makes this room look and feel like a real log cabin in a bedroom.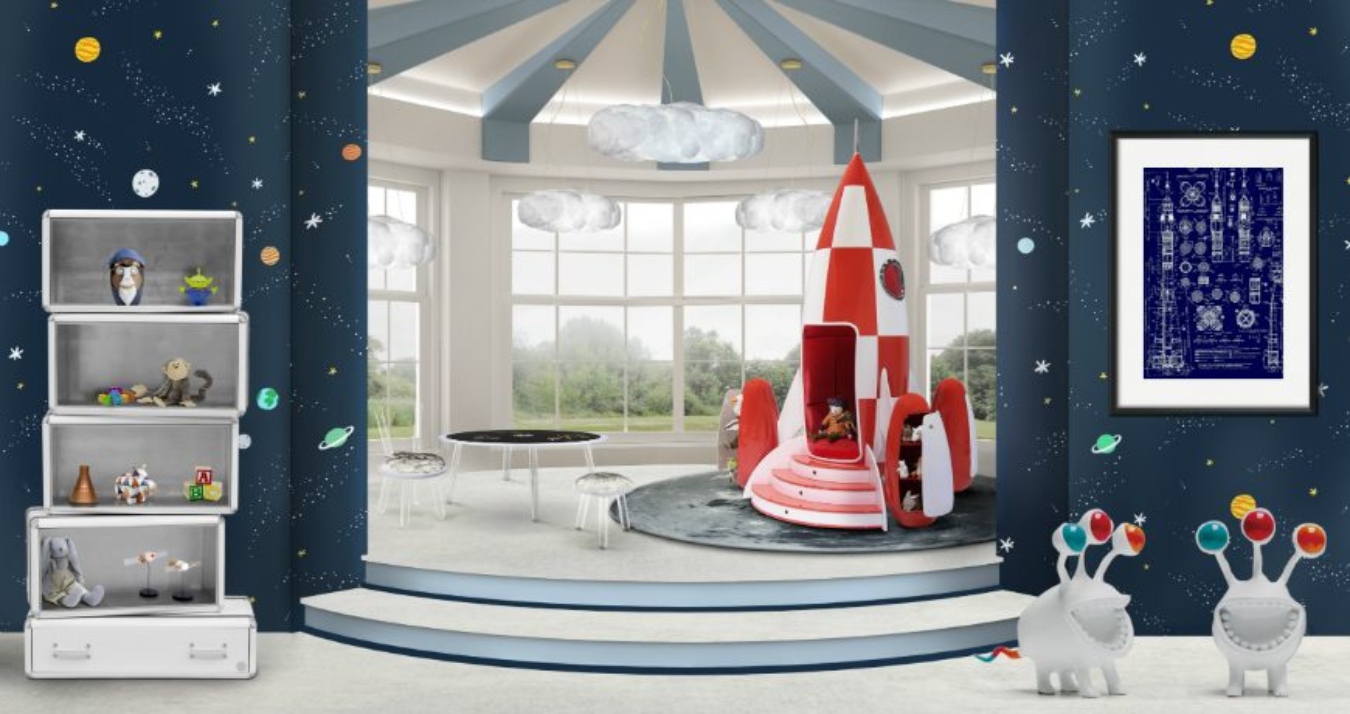 Space Shuttle Blastoff
This bedroom has its own space shuttle blastoff pad, surrounded by constellations and planets on the walls.  Alien friends complete the space galaxy bedroom.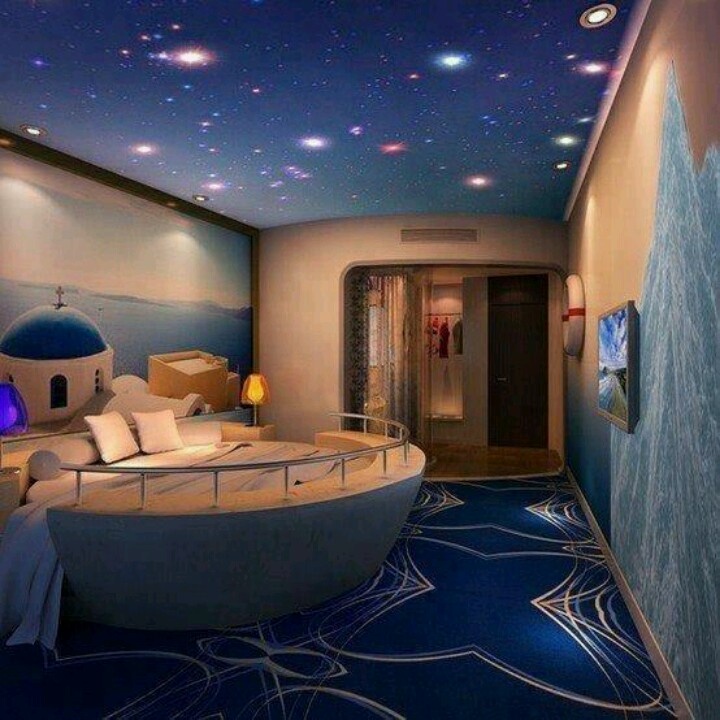 Yacht Life
This child's bedroom has its own yacht that doubles as a bed!  The carpet gives the illusion of crystal-clear waters, while a life preserver hangs on the wall in case anyone falls overboard.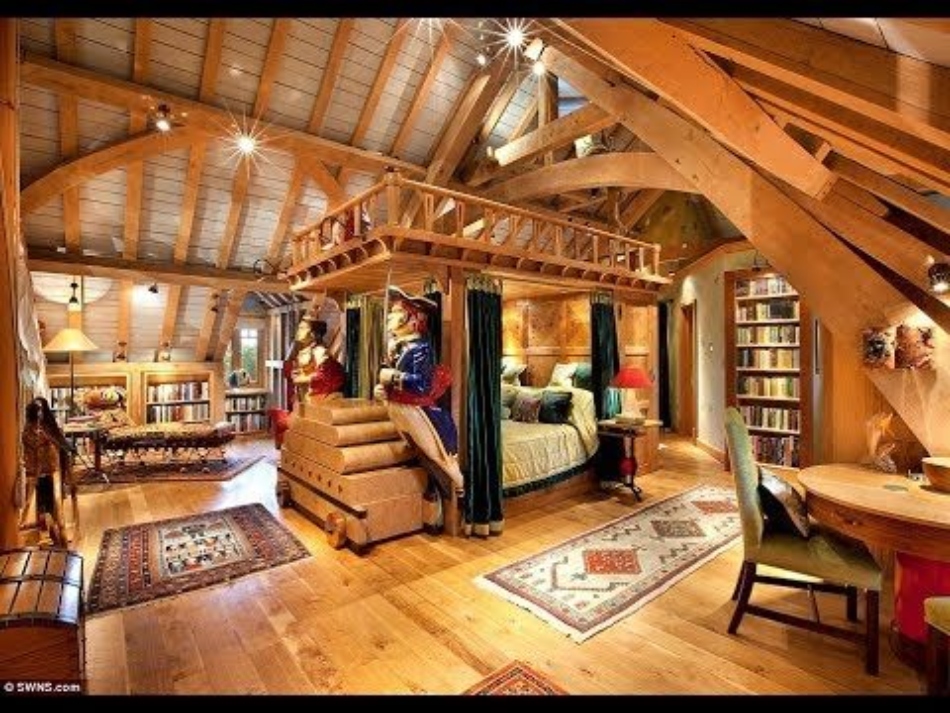 Toy Soldiers
Toy soldiers guard this child's canopy bed, surrounded by drapes.  A high-peaked ceiling allows room for the elevated space above the bed.  Bookshelves line the room and tables provide ample space for studying and hanging out with friends.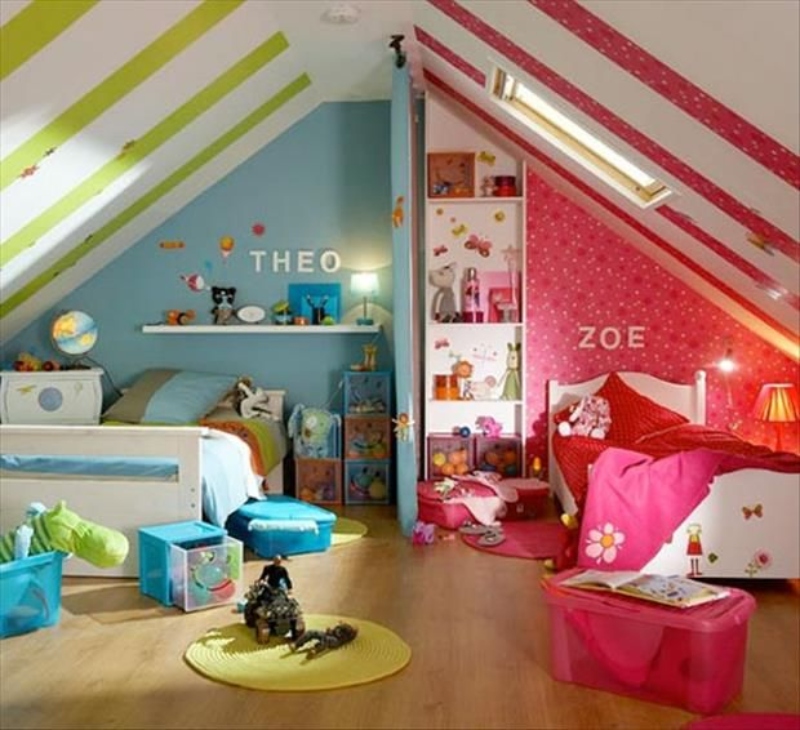 His and Hers
The perfect setup for twins, this his and hers bedroom is the solution for siblings who have to share a room, with blue walls and boyish decor on one side and pink on the other.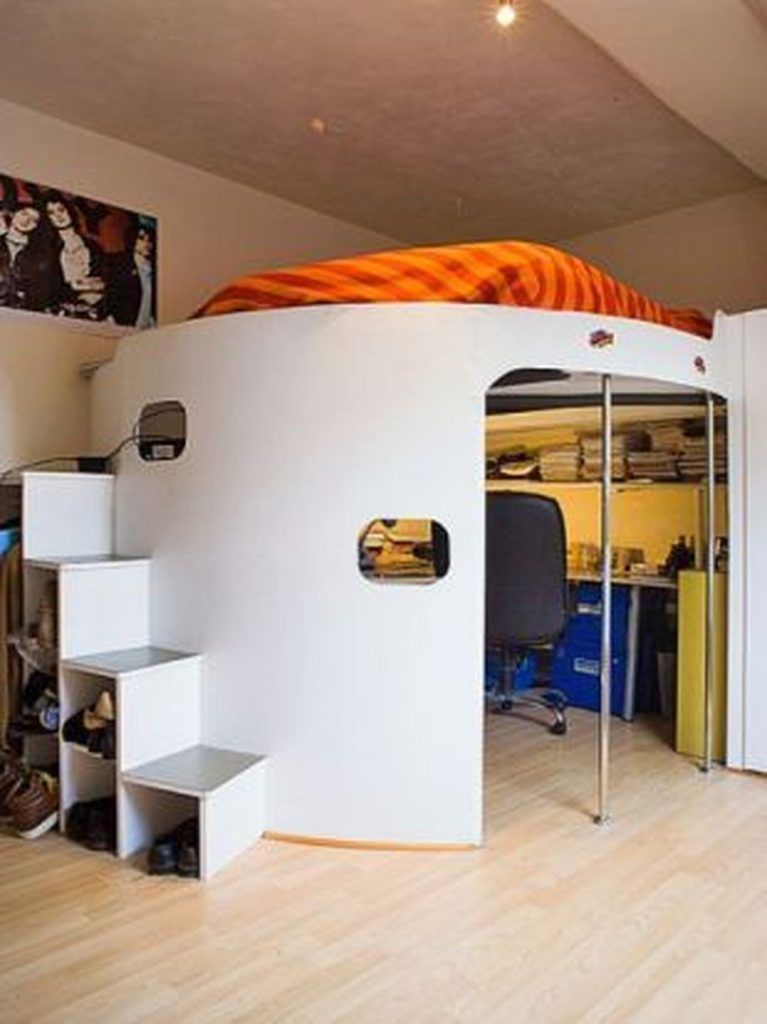 Study Loft
Stairs curve around and lead to a loft bed, while the space below is the perfect setup for studying.  A great setup for a teenager's bedroom.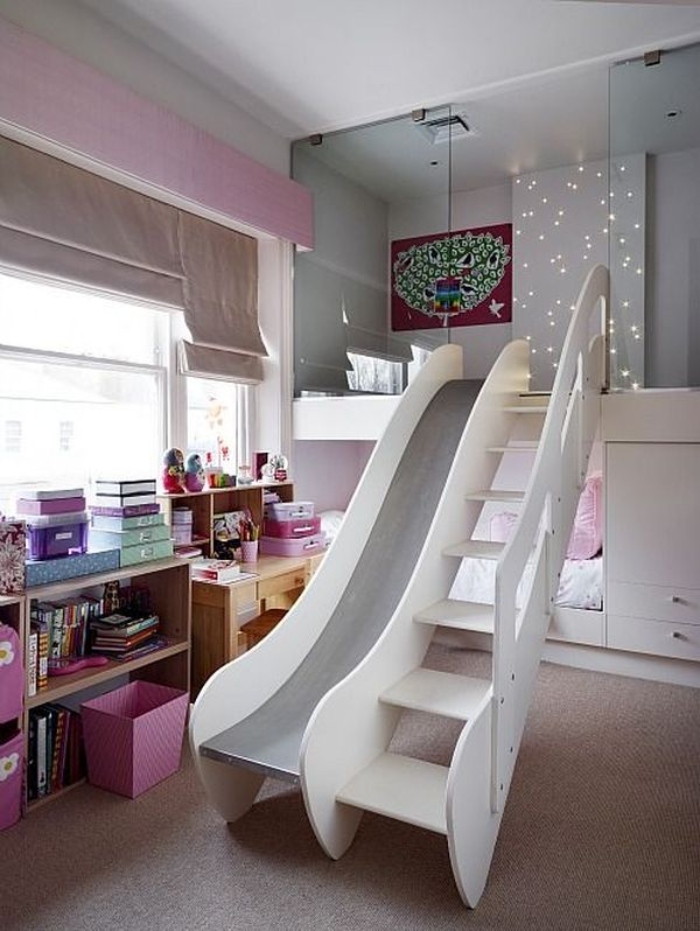 Cozy Corner
This room features a bed in a cozy corner below a loft.  A closet and dresser drawers are built into the loft.  Access the loft by climbing up the stairs, and use the slide to slide back down to the main level.  The tunnel underneath the stairs and slide leads to a desk.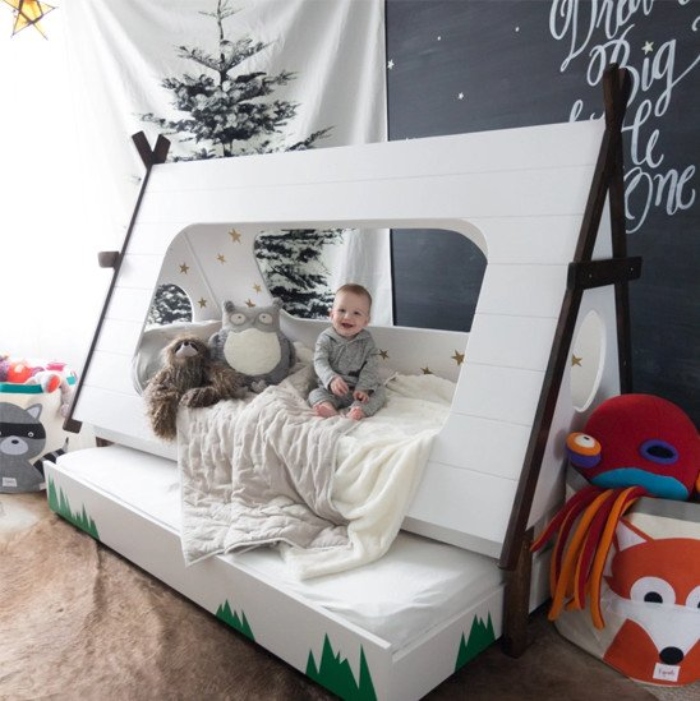 Camp Baby
This teepee bed is the perfect starter bed for an outdoorsy toddler.  Snow-covered trees and a dark-painted wall complete the feeling of sleeping under the stars.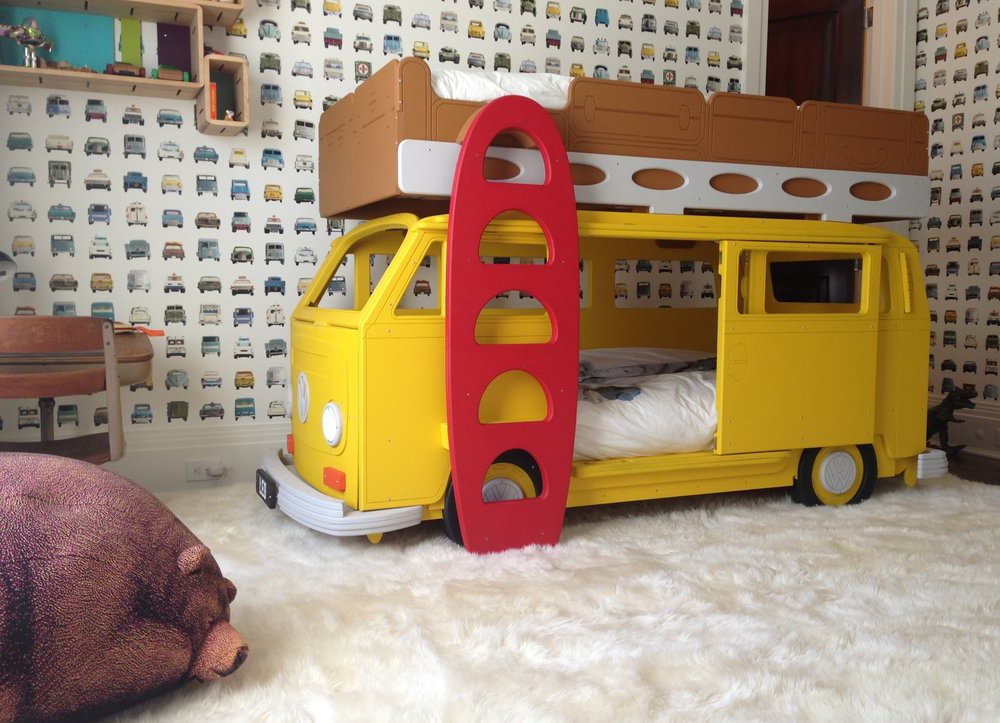 Trolley Bunkbed
This double-decker trolley is a bunkbed for two lucky siblings!  Car wallpaper and a big stuffed bear with a soft, furry white rug complete the room.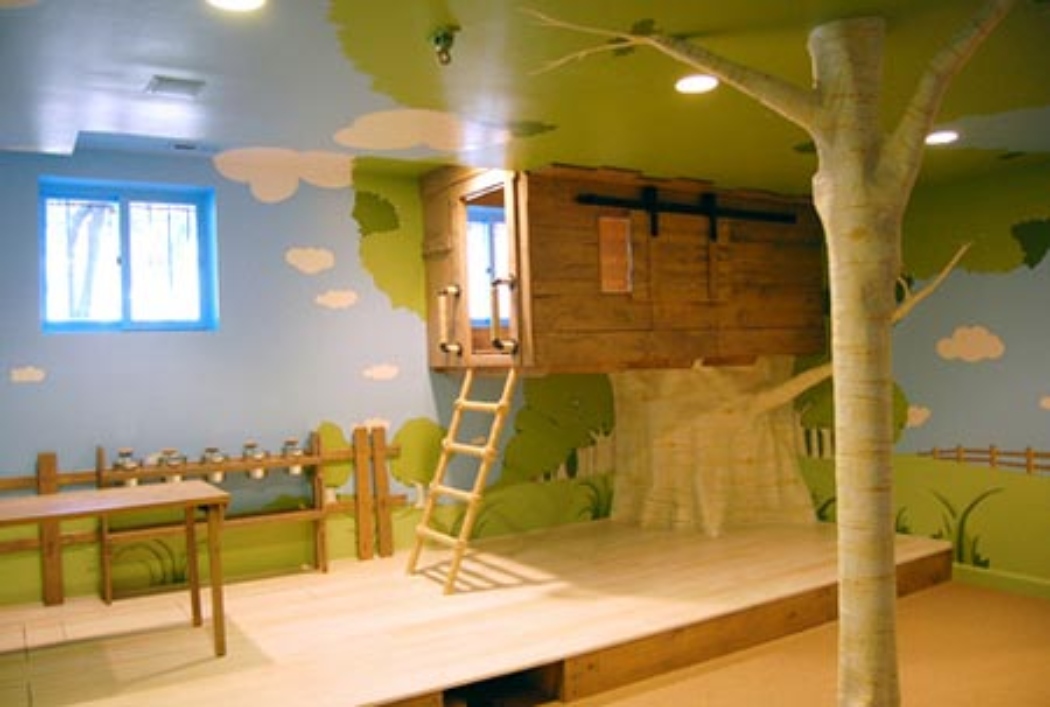 Country Treehouse
This child's bedroom gives the impression of a treehouse out in an open country field.  The walls are painted to reflect an expanse of fields with endless blue skies, while the ladder leads up to a treehouse bed perched on a massive tree trunk.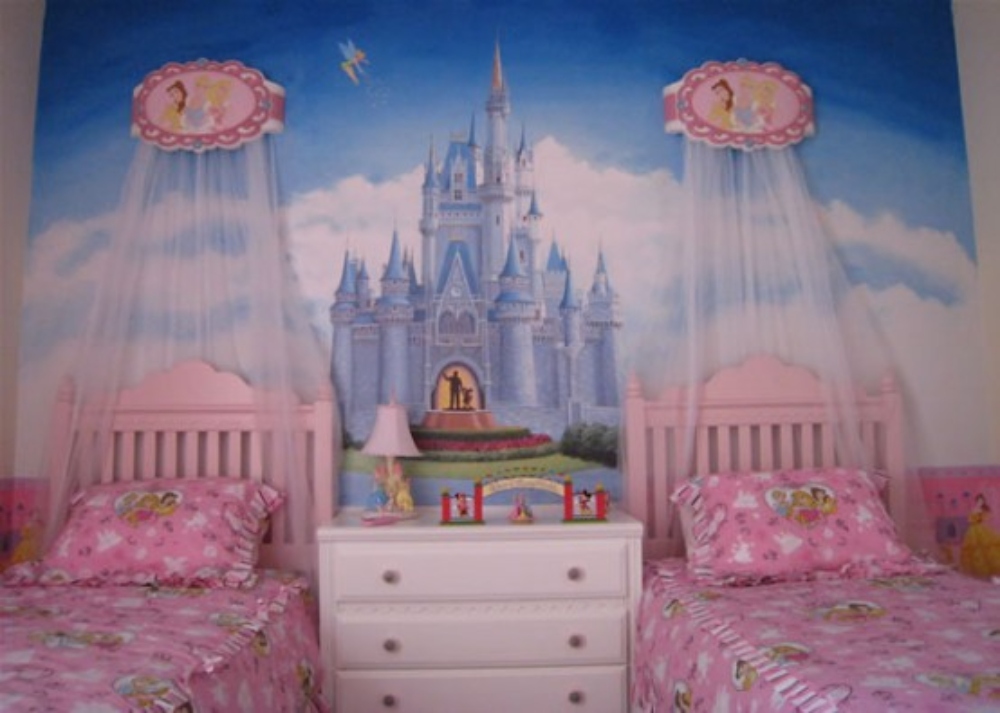 Cinderella's Castle
Princess beds are seated in front of a wall painted with Cinderella's castle, with two streaming canopies.  A bedroom fit for two princesses.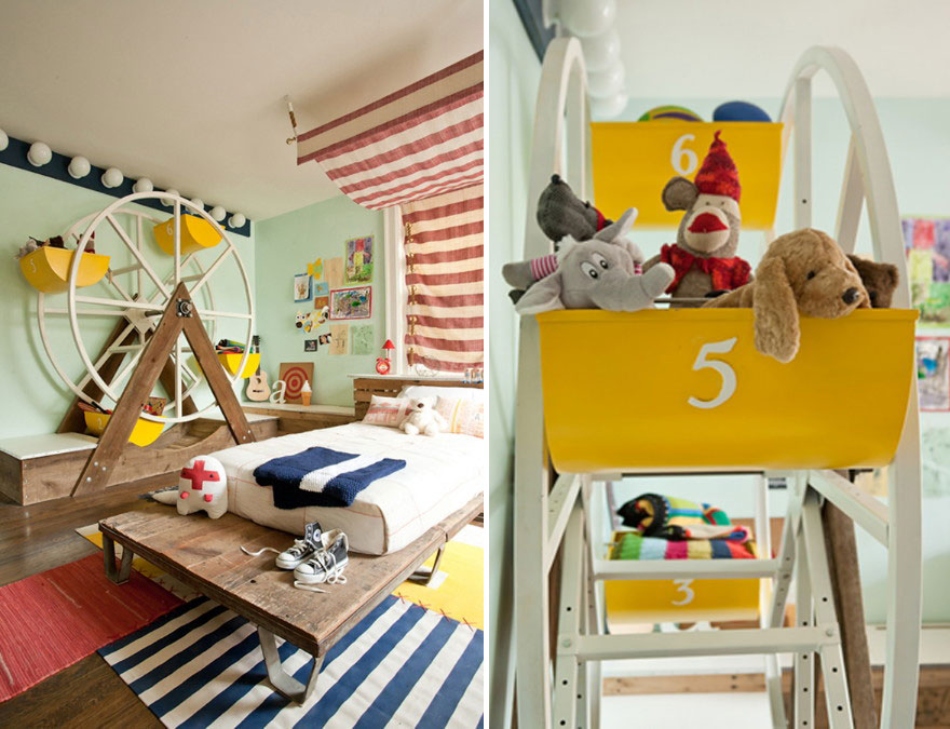 Ferris Wheel Fun
This bedroom's main feature is its massive Ferris wheel, offering endless rides to stuffed animal friends.  The painted seats also serve as storage bins.

Elegant Canopy
Perfect for one lucky teenager, this bedroom features a massive canopy that has a built-in dresser in the front and dresser drawers beneath the full-sized bed.

Swinging Together
This bedroom features a high ceiling, which accommodates the swings that hang from the ceiling, perfectly safe for two lucky children to swing from.

Starburst
Not only does the bed double as a space shuttle, a burst of stars streams across the walls in this solar galaxy-themed bedroom.

Anchor's Away
This bedroom features two built-in beds residing below a loft with a partial sailboat to keep a lookout for pesky siblings.  A rope hangs from the loft in case anyone gets thrown overboard.

Aloft
This room has plenty of space for playing and studying due to its loft featuring two beds.  Desks reside below on the main level, and the walls are lined with bookshelves and storage for toys.

Calvin and Hobbes
In this cartoon come to life, Calvin and Hobbes look out over a treehouse loft bed.  Stairs lead the way to the bed, while a slide makes getting up in the morning fun.

Fortress Hideaway
This unique bunkbed features a fortress that partially hides the top bunk, while a tunnel on the lower level leads to a ball pit.

Monkeying Around
This bedroom features a loft bed surrounded by painted trees, monkeys, and other zoo animals, with another bed on the main level.  A built-in shelf displays these siblings' favorite books and stuffed animals.

Treehouse Loft
Gone are the days of dreading having to share a room with your sibling with this setup.  With wooden steps that lead up to a treehouse loft, these siblings will have too much fun playing to get sick of each other.

Tree Trunk Hideout
This bedroom features a cozy circular bed tucked away in the trunk of a tree!  Lily pad steps lead the way, while a corner tree trunk has a secret door leading to a closet.